Kratom Deaths Spur Renewed Legislation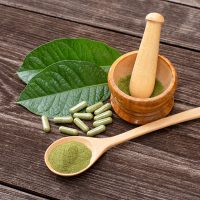 Not all herbal supplements are created equally. Some of them are basically nothing, while others are just drugs that haven't been regulated yet. Kratom falls into the latter category and produces opiate-like highs that help individuals kick heroin addiction. Now, however, the marketing around kratom wants to sell it as a "dietary supplement" which is causing people to become addicted, and in some cases, die.
A growing number of reports coming out of Georgia indicate that unfettered access to kratom is causing preventable deaths. In one case, a father collapsed at the dinner table in front of his wife and children. In another case, parents found their son on the ground after he overdosed. They found a note nearby with a to-do list. On it was "stop taking kratom".
Kratom is an addictive narcotic that is easy to purchase at gas stations in Georgia. In other states, its sale is restricted to specific licenses. Now, with a growing number of deaths caused by kratom, Florida legislators are reviving packages that would restrict the sale of the substance.
What would the new legislation do? 
The new legislation would restrict the sale of kratom to individuals over the age of 21. Further, it would place restrictions on adulterated kratom and force manufacturers and vendors to meet minimum requirements for purity. At this point, it remains unclear if this legislation will help or hurt kratom manufacturers. It sounds an awful lot like legislators are taking the kratom industry's side in their personal injury lawsuits by claiming that the kratom was adulterated or impure. There is no evidence that these kratom products caused an overdose based on non-kratom substances. The cause of death was simply kratom poisoning via mitragynine poisoning, the active ingredient in kratom.
In other words, if you're like me, then you probably already assumed that kratom was age-restricted and that companies were required to meet minimum standards. At this point, the effort appears only to make the law reasonable and not pressure the kratom industry to market its product as an alternative to methadone, which at this point, appears to be its only legitimate use.
While the substance is likely to generate feelings of euphoria, you wouldn't use heroin to treat anxiety, and you certainly wouldn't use heroin as a dietary supplement. The biggest problem here is that these companies are attempting to manipulate consumers into becoming kratom addicts. Since addiction inevitably results from regular use, the companies need to be stopped.
People should be aware kratom is a DIY drug for dealing with opiate withdrawal, not a lifestyle choice.
Talk to a Miami Personal Injury Lawyer Today 
Alan Goldfarb, P.A. represents the interests of Miami plaintiffs injured by dangerous products. Call our Miami personal injury lawyers today to schedule a free consultation and learn more about how we can help.
Source:
floridapolitics.com/archives/579981-joe-gruters-refiles-florida-kratom-consumer-protection-act-to-regulate-drug-ban-under-21-sales/