Pet Grooming Company Sued For Injuring Animals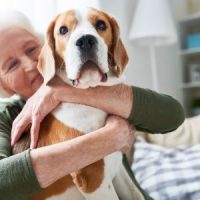 Several individuals who brought their pets to a mobile grooming business say that their animals appeared injured after they were returned to them. One man brought his pet, Karma, to the veterinarian immediately after returning home. His puppy was bleeding from her nose and nearly limp. At the emergency vet, where Karma died, the veterinarian listed the cause of death as either "strangulation, near drowning, electrocution, upper airway obstruction," or alternatively, "a prolonged seizure."
Another woman took her pooch to the mobile hospital and, while waiting for the appointment to finish, an employee said that she thought her dog "caught a cramp". Records from the vet show that the "cramp" was actually a dislocated hip. The groomer contends that the dog was brought to the facility with that injury.
There are three active lawsuits against the business claiming that they severely injured dogs and are responsible for the large vet bills incurred by owners.
Injuries include:
Broken legs
Broken hips
Suffocation
Lacerations requiring staples
Pet groomer liability 
Pet groomers can purchase pet groomer liability coverage for their business. The insurance would indemnify the company from lawsuits and take over cases that were filed against them. The insurance company would litigate these claims and even take them to court, if necessary. Unfortunately, the industry is completely unregulated. If you're a person who wants to get their nails done, there is a regulatory structure and a licensing process for those that provide services. Not so for pet groomers. There is no regulatory structure. But that doesn't mean that they can't be held liable. If they couldn't, then there would be no need for pet groomer liability insurance.
Pet groomer malice 
Pet groomers can also be held liable for cruelty to animals. In one case, a groomer was sentenced to jail time after pleading no contest to twisting and pulling the tail of a German Shepherd so badly that it had to be amputated.
The rules of each state govern what sorts of damages an owner can receive, and lawsuits are filed under different theories of law. Most actions against those who injure or kill pets are filed under property damage statutes. But pets are members of your family, and you should be entitled to compensation for grief after losing one.
Talk to a Miami Personal Injury Attorney 
We don't handle many pet abuse lawsuits, but if your pet has been injured or killed due to veterinary malpractice or dog grooming malpractice, call the Miami personal injury attorneys at the office of Alan Goldfarb, P.A. today to schedule an appointment and learn more about how we can help.
Resource:
wsvn.com/news/special-reports/grooming-grief-dog-owners-file-lawsuits-complaints-against-broward-mobile-pet-grooming-business/