Wrongful Death Lawsuits And Police Shootings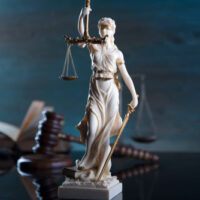 It's hard to find a news publication nowadays that doesn't have a recent story of a black suspect being shot and killed by a police officer. That story has a familiar and distasteful ring to it. Florida recently made headlines when a jury awarded the grieving family of a police shooting $4 in a wrongful death lawsuit against the state. The family of another man, however, was awarded $425,000 after being fatally shot by a police officer.
Since police officers are rarely implicated criminally in fatal shootings, most families have no other recourse but to file a civil suit against the city or county that hired the police officer. But verdicts of negligence can be difficult to come by as the family of Gregory Hill found out when a jury found him 99% responsible for the fatal shooting and police officers who shot him only 1% responsible.
The Gregory Hill Trial
Both the family of Gregory Hill and their lawyers were shocked and devastated by a jury award of just $4 for the life of a man who was taken before his time. It could only be taken as an insult and as the family noted, would have been better if the jury simply found in favor of the defendants. Nonetheless, they saw fit to insult the proceedings with a measly payout in which they found Hill 99% liable for the incident.
The jury awarded the family one dollar for funeral costs and another dollar to each of Hill's three children. Since Hill was found to be 99% liable, they can only collect one cent on each dollar they were awarded.
Worse still, was that police testimony seemed at odds with the evidence. Police claim that Hill had a gun pointed at them, but when he was found dead, the gun was in his back pocket. To make matters worse, the police shot him through the garage door and weren't even sure that he was dead until they send in a reconnaissance robot.
In a bit of good news, however, Mike Evans of the Tampa Bay Buccaneers donated $11,000 to the family.
Howard Bowe Settlement
In a completely different situation, the Hallandale Beach City Commision settled a wrongful death claim in the case of Howard Bowe who was shot by police during a raid. In this case, the family successfully argued that the military-style raid conducted by the police was bungled causing a communication breakdown that the resulted in the man's death.
Is it Possible to Win a Wrongful Death Lawsuit against a Police Officer?
The answer is yes but it's very difficult. In the case in which the Hallandale Beach decided to settle, there was proof that the raid was bungled. While the police officers themselves were not held responsible for the shooting, negligence could be inferred by the way in which the raid was conducted. In other words, it wasn't the family of Howard Bowe versus an individual officer and a bad decision, it was simply a mistake that occurred during the raid that implicated no one in particular.
Alan Goldfarb Represents Injured Parties in Miami
Miami personal injury attorney Alan Goldfarb has helped grieving families recover damages for the loss of a loved one. Give us a call at 305-371-3111 or contact us online for a free case evaluation.
Resources:
sun-sentinel.com/local/broward/hallandale/fl-hallandale-settlement-police-raid-20180619-story.html
washingtonpost.com/news/post-nation/wp/2018/06/02/a-man-was-shot-and-killed-by-police-a-jury-gave-his-family-4/?utm_term=.382e32dfff72
washingtonpost.com/news/post-nation/wp/2018/06/02/a-man-was-shot-and-killed-by-police-a-jury-gave-his-family-4/?utm_term=.91e9b1d261ab