Airline Crew Members Injured By Toxic Fumes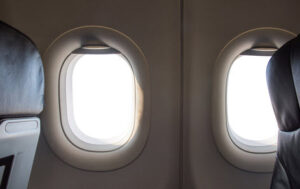 Several members of a flight crew maintain that they suffered harm as a result of inhalation of toxic fumes in the aircraft's cabin several years ago. One of those claiming injuries, the pilot of the aircraft, said that the whole flight crew as well as several passengers felt ill during the flight; the effects were likened to being intoxicated and victims said they experienced headaches and felt confused. The pilot explained that the situation is caused by air that is redirected from the aircraft's engines to pressurize the aircraft's cabin. This 'bleed air' can contain toxic fumes and, according to reports, incidents arising from these 'fume events' affect one out of 35,000 flights every day.
The Air We Breathe
Without a doubt, the quality of the air we breathe is an issue that deserves attention. The concern about air quality within aircraft is something that cannot be understated. As travelers, we are well aware of the concerns of breathing 'other people's air' while on flights and it is no surprise that for many people the fear of getting sick as a result of a flight is something to take into consideration when making travel decisions. Even beyond the (quite valid) concern of catching a fellow passenger's cold, however, is a deeper concern of breathing poor quality air for the duration of a flight and the long-term harm our health may suffer because of it. The Federal Aviation Administration (FAA) recognizes the importance of the issue and the accompanying concern of fume events that take place inside aircraft, and has conducted studies on the topic over the years. Inhalation of these fumes can lead central nervous system issues such as headaches, blurred vision, nausea, balance issues, and memory loss, much like the symptoms noted by the flight crew and passengers described above.
Monitoring Air Quality
The Association of Professional Flight Attendants (APFA) has issued guidelines for its members to follow in the event that they suspect a fume event is taking place. Some of their advice includes notifying the flight deck immediately if any unusual odors, smoke, or haze is noted in the cabin or if any of the flight crew or passengers begins to experience symptoms such as headache, irritated eyes, nose, or throat, dizziness or nausea. Another symptom of the condition is having a metallic taste in your mouth. Post flight symptoms of fatigue, muscle aches or chest tightness are also cause for concern associated with this type of incident.
Contact Alan Goldfarb, P.A. For Help With Your Flight Injury Case
If you have suffered injuries as a result of an airline issue, whether it was caused by turbulence or even the air quality in your aircraft's cabin, we can help. Our Miami attorneys will fight hard to make sure you receive compensation for your injuries regardless of how they occurred. At the office of Alan Goldfarb, P.A., we have assisted countless clients in the Miami area with their mass transit injury cases and are familiar with the complex and complicated nature of these types of matters. Contact us today to allow us to get started towards helping you receive the results you deserve.
Resources:
gma.yahoo.com/flight-crew-members-toxic-air-plane-cabin-harmed-130604915–abc-news-topstories.html?soc_src=mail&soc_trk=ma
apfa.org/odor-fume-events
skybrary.aero/index.php/Bleed_Air_Systems
faa.gov/data_research/research/med_humanfacs/oamtechreports/2010s/2015/201520/