Hillsborough Fire Rescue Sued for Negligent Rendering of Aid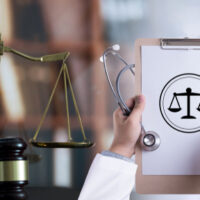 Punishments have already been laid down for four Hillsborough County first responders whose negligence cost a new mother her life. Crystal Galloway lost her life to what many would describe as gross or even criminal negligence on the part of the four fire rescue personnel who failed to respond appropriately to a 911 call.
The woman, who had just been returned home after giving birth to her child by c-section, was suffering stroke-like symptoms when her mother, Nicole Black dialed 911. Black found her daughter passed out in the bathroom. The first responders were informed that the woman had just given birth and that there was a possible stroke situation.
What Both Sides Agree On
When the paramedics showed up, they did not attempt to transport Galloway to the hospital or take her vitals. They helped Galloway into her mother's car and her mother drove her to the hospital where she slipped into a coma and later died.
What The Family Says
According to the family, the paramedics did little to nothing to help Galloway despite being told that she had just come back from the hospital having delivered a baby by c-section. They were also told it was a possible stroke situation. According to Nicole Black, however, they did not attempt to render aid to her daughter and instead stood around waiting for the rest of their shift to run out. Galloway was driven to Brandon Regional Hospital, a facility that was not equipped to deal with stroke patients. It's unclear if paramedics told Black to take her daughter there.
At Brandon Regional, a CT scan revealed a brain bleed. She was airlifted to Tampa General Hospital but it was too late. Five days later, she was dead.
The Paramedic's Story
The paramedics claim that Nicole Black refused intervention and that she wanted to take her daughter to the hospital. However, they never took the patient's vital signs which is standard procedure regardless of whether or not the patient ends up going to the hospital.
The Fallout
Three of the fire rescue personnel who were on the scene were suspended 30 days without pay and two were demoted. Lt. John "Mike" Morris was terminated. The punishment was handed down by County Administrator, Mike Merrill, who claimed that Morris "showed no remorse" and insisted that he "didn't need to take the woman's vitals" because he could tell just by looking at her what was wrong.
Morris' union responded that Morris is an Iraq War Veteran and that a failure of leadership was to blame. He accused Merril of attempting to cover his own posterior.
The family will now file a lawsuit for wrongful death against the county in the hopes of securing a nest egg for the three children she left behind. Damages in cases against the government, however, are capped at $200,000. The family will not be able to pursue punitive damages. The state is immune to punitive damages in civil lawsuits.
Talk to a Miami Personal Injury Attorney
The team at the Miami office of Alan Goldfarb P.A. has recovered millions in damages for our clients. If you've been injured by another's negligence, give us a call or contact us online.
Resources:
tampabay.com/news/publicsafety/fire/Hillsborough-gets-notice-of-first-lawsuit-over-paramedics-who-failed-to-treat-stroke-victim_172999342
abcactionnews.com/news/region-hillsborough/hillsborough-emt-fired-3-others-suspended-for-failing-to-follow-protocol-resulting-in-death-of-mom