ICE Flights Riddled With Toxic Smoke, Other Dangers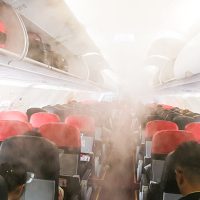 Yes, foreign nationals, even those in the United States illegally, do have the legal standing to sue the federal government, their employer, or anyone else who negligently causes an injury. However, they often don't due to the risk of exposure. On the other hand, if they are already on an ICE flight to a detention facility, then the risk of exposure isn't their foremost area of concern. Now, Immigration and Customs Enforcement may be facing a new scandal after toxic fumes filled the cabin of a plane with undocumented immigrants, federal agents, guards, and other crew.
For eight minutes, those trapped inside the cabin choked on toxic fumes as the pilot attempted to land the plane. By the time they exited the plane, many were dizzy, vomiting, or worse. A year after the aforementioned incident, the same plane crash-landed after one of the emergency slides failed to work. The incidents detailed above spanned the presidencies of both Donald Trump and Barack Obama.
What's going on? 
ICE, like many government agencies, outsources its commercial flights to charter companies that provide these services to the government. The companies work on lucrative government contracts but are required to meet federal standards when it comes to maintaining their planes. Nonetheless, these planes depart from private airports and no one knows much about them. ICE has, since these deportations became more frequent, expressed concern over the quality of the planes being used to ferry deportees and ICE agents to holding centers across the country, and their countries of origin.
Both former detainees and ICE officials have provided testimony that the quality of these planes being used to ferry illegal residents to detention facilities are poorly maintained, dangerous, and occasionally cause serious bodily injury to the passengers. While aviation authorities have pointed out the problems, they also point out that they lack the authority to enforce any standards when it comes to the quality of their planes. How ICE found itself in a position where it is flying aboard dangerous planes without the authority to enforce federal safety standards is a matter for another post. Suffice it to say, that the lack of power to enforce safety standards has resulted in a situation where regulators don't really care what happens aboard these flights because they are limited in what they can do to prevent major disasters.
What do the charters say? 
The charters blame support crew, mechanics, and anyone else they can throw under the bus. In some cases, they claim to have fixed a problem without providing any evidence that the problem is fixed. Legally, they're in a regulatory black hole. While they are required to maintain safety standards, no one is enforcing those standards. Nonetheless, as a private company causing injury to passengers, they can be sued by ICE agents injured and by detainees during transport.
Talk to a Miami Personal Injury Attorney Today 
If you've been injured due to the negligence or incompetence of another individual, company, or government agency, call the Miami personal injury attorneys at the office of Alan Goldfarb, P.A. today to schedule a free consultation and learn more about how we can help.
Source:
capitalandmain.com/a-drunk-mechanic-shackled-immigrants-a-crash-landing-the-dangers-of-ice-flights