Migrant Workers Allege That They Were Sprayed by Pesticides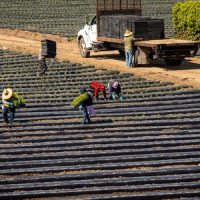 Two dozen migrant workers from Texas allege that they were sprayed with toxic pesticides in Illinois. Now, they've filed a lawsuit against the Iowa-based company that employed them, Pioneer Hi-Bred International Inc. The workers are represented by Legal Aid from Illinois and Texas.
The workers allege that they were wearing orange hats and backpacks when a helicopter flew overhead and distributed a deadly pesticide on them. The workers included teenagers, elders over 65, and a pregnant woman. Twenty-seven workers reported serious side effects from the pesticide including shortness of breath, blurred vision, eye irritation, and dizziness. Some have alleged that they still have symptoms of the incident today.
Migrant workers are among the most vulnerable in the nation. Entire literary tomes have been dedicated to their plight.
The Allegations
Besides dumping pesticides on their own workers, the victims allege that the company failed to protect its workers, arrange for medical treatment, or cover their hospital bills. The company responded to the lawsuit saying that the claims were baseless and that they intend to dispute the allegations and defend against them "vigorously".
At this point, however, it remains unclear what possible defense the company could have to dropping dangerous chemicals on their own workers. It is typical in a situation like this for the companies to point their fingers at each other since they cannot point their fingers at the victims. So then the question becomes: Which of the several companies that are named in the lawsuit is at fault for this incident and to what extent are they at fault?
Victims will be entitled to recover damages related to their hospital expenses, lost time from work, and pain and suffering damages. If the pregnant woman loses her baby, she may be entitled to file a wrongful death lawsuit. Family members of those who end up dying because of the pesticide exposure would also be entitled to file a wrongful death lawsuit. Each employee injured would be entitled to file a claim against the company for their injuries.
Situation is Confusing
The situation here is confused by several jurisdictional issues. Firstly, the workers are from Texas. However, the company they work for is based in Iowa with other parent companies based elsewhere. Then, the incident occurred in Illinois. The plaintiffs have a right to file their lawsuit wherever they please, but the companies have a right to ask for a change in venue.
Further confusing the issue is whether or not workers' compensation laws will apply and, if so, which state's? Workers' compensation prevents employees from filing lawsuits against their employers, but only if they are covered by a workers' compensation policy. It does not prevent them from filing lawsuits against a company for which they work as an independent contractor or a company that doesn't employ them. Each state has its own laws further confusing the matter.
Talk to a Miami Personal Injury Attorney Today
If you've been exposed to a toxic substance due to the negligence of yours or another individual's company, call the Miami personal injury attorneys at the office of Alan Goldfarb, P.A. today to schedule a free consultation and discuss your situation in greater detail.
Resource:
miamiherald.com/news/business/article247583635.html
https://www.goldfarbpa.com/ice-detainee-alleges-mistreatment-files-lawsuit/