ICE Detainee Alleges Mistreatment, Files Lawsuit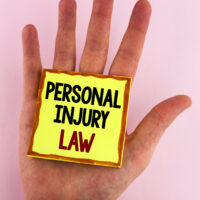 An epileptic ICE detainee has filed a personal injury lawsuit against ICE after he said they caused him serious injuries and then failed to treat them. Alejandro Mugaburu says that ICE officials tossed him from one vehicle to another like "a sack of potatoes." He also told a judge that he was dragged from his wheelchair and tossed into vehicles for transport by a non-wheelchair accessible vehicle. His body showed signs of severe bruising.
The incident began when Mugaburu had an epileptic seizure while going down the stairs at an ICE detention facility. Mugaburu said he was denied medical treatment even though he lost consciousness during the fall and injured his leg. He was also denied his epilepsy medicine.
Now, it's 14 months later, and Mugaburu says his leg injury was never treated properly and he remains in a wheelchair, unable to walk with a torn ACL. His leg was visibly swollen when he went before the judge.
Mugaburu Released
Mugaburu was released in May after a Miami Herald story concerning his treatment during detention drew unwanted attention to ICE practices. Regardless of his standing as a citizen, the United States government has a duty to provide care to those in their custody. This duty includes seeing to their medical needs.
Mugaburu says that his mistreatment and discrimination violates the U.S. Constitution, the Rehabilitation Act, the Americans with Disabilities Act, and the Federal Tort Claims Act. The lawsuit has been filed under the Federal Tort Claims Act which defines instances in which the federal government can be sued pursuant to causing injury or death.
Among the allegations leveled at ICE concerning Mugaburu's treatment, the Panamanian says that ICE housed him on the second floor, despite his epilepsy, which resulted in a seizure while he was on the stairwell. His attorney says that he should have been on the first floor to avoid potentially dangerous interactions with stairwells.
Further, his attorney says that ICE officials ignored multiple requests for medical treatment related to both his leg and his epilepsy, among other issues. Once he was rendered unable to walk, he was moved around in a wheelchair, but instead of using a wheelchair-accessible vehicle, the ICE employees lifted the 250-lb man into the vehicle with injurious results. To deal with the issue, ICE officials placed him in isolation for weeks on end to limit the need for wheelchair accessibility. He was also denied access to a medical shower chair or handicapped bathrooms and was forced to use facilities that were made for people with two working legs.
Talk to a Miami Personal Injury Lawyer Today 
If you've suffered a major injury due to the negligence of another party, you are entitled to recover damages related to your medical expenses, lost wages, and reduced quality of life. Call the Miami personal injury attorneys at the office of Alan Goldfarb, P.A. today to schedule a free consultation and learn more about how we can help.
Resource:
miamiherald.com/news/local/immigration/article247299314.html
https://www.goldfarbpa.com/analyzing-the-wright-medical-hip-lawsuits/