Oregon Residents File Class-Action Against Utility Company After Wildfires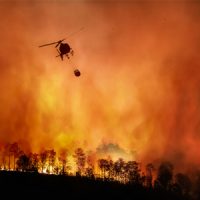 Three law firms in the Northwest have filed a class-action lawsuit against Pacific Power and its parent company after residents say that the wildfires are directly related to the utility company's negligence. The lawsuit claims that Pacific Power failed to shut down its powerlines despite knowing that these were perfect conditions to start a wildfire.
The lead plaintiffs and class representatives in the lawsuit are Jeanyne James and Robin Colbert, a couple who lost their home and vehicles to a wildfire in Lyons, Oregon. The wildfires destroyed several thousand homes and left 11 people dead.
The lawsuit alleges that high winds topped powerlines that set off at least some of the blazes.
What Happened?
The Portland-based utility company issued a statement saying that it doesn't comment on pending litigation and doesn't know if it was their equipment that ignited the fires or not. Officials have yet to determine a specific cause, but the Northwest Interagency Fire Coordination Center has stated that downed powerlines have caused at least 13 separate fires.
A Similar Utility Company Filed for Bankruptcy
In California, Pacific Bank & Electric filed for bankruptcy after their powerlines ignited a similar wildfire in that state in 2018. The ensuing fire destroyed 11,000 homes and took 85 lives. It was determined that equipment manufactured by Pacific Bank & Electric caused dozens of fires, and the company faces nearly $30 billion in lawsuits causing the company to file for bankruptcy protection. In May, the company settled the lawsuits for $13 billion in cash and stock.
Understanding Negligence 
It's not just enough that the company's equipment started the wildfires. The plaintiff's attorneys are arguing that there were specific actions that the utility company could have taken to avoid at least some of these fires, and they didn't.
In high winds, powerlines may be vulnerable to polls and towers falling over. The powerlines ignite a fire which, also due to the high winds, spreads rapidly through valleys and canyons. Since there is something that the power company could have done (cut power to the lines) and they neglected to do this, they are held liable for the damages.
In these cases, it's hard to imagine a more costly error in judgment. The losses are incredible. In this case, you have thousands of homes destroyed, all of the property in the homes lost, along with lives and vehicles lost. So billion-dollar settlements in these cases are not uncommon.
However, proving the source of individual fires can be difficult. The plaintiffs still have to prove that the defendant's negligence was responsible for the fires, and this may be harder than it sounds.
Talk to a Miami Personal Injury Attorney
If you've been injured, lost a loved one, or otherwise suffered a loss due to someone else's negligence, the Miami personal injury attorneys at the office of Alan Goldfarb, P.A. can help you recover damages related to your losses. Call today to schedule a free consultation.
Resource:
miamiherald.com/news/business/article246149180.html
https://www.goldfarbpa.com/grieving-husband-lands-30-million-in-medical-malpractice-lawsuit/