Judge Allows Tourist to Seek Punitive Damages in Water Slide Injury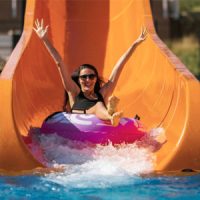 While the matter will still be decided by a jury, a judge has permitted a plaintiff in Universal's waterslide injury lawsuits to attempt to recover punitive damages in his lawsuit against Universal. The tourist broke his neck on a Volcano Bay water slide.
What Are Punitive Damages?
In a personal injury lawsuit, there are three types of damages: Compensatory damages, special compensatory damages, and punitive damages. Compensatory damages are generally considered "non-economic" damages like pain and suffering, loss of consortium, or issues related to reduced quality of life. Special compensatory damages are "economic" damages like medical bills or lost wages.
Punitive damages are different from compensatory damages. While compensatory damages are meant to compensate the plaintiff for financial or other types of losses, punitive damages are awarded to a plaintiff when the conduct of the defendant is so egregious, the court sees fit to punish the company for their bad behavior.
Are Punitive Damages Appropriate to This Case?
That remains to be seen. However, the fact that the judge will allow the prosecution to argue for punitive damages is a major victory for the plaintiff. The question the jury will have to answer is whether or not the negligence committed by Universal Studios and their waterpark goes beyond ordinary negligence.
While punitive damages are hard to get, the cases in which plaintiffs successfully win punitive damages usually involve serious lapses in safety. In this case, the lawsuit filed against Universal uncovered 75 injury reports related to their various waterslides. Further, Universal failed to provide this information to the company they hired to engineer the waterslides, and now there is a question as to whether or not Universal's insurance company will pick up the tab. This is largely because Universal failed to report these incidents to the proper authorities.
However, Universal claims that very few of these injuries were severe enough to require reporting. Generally speaking, amusement park operators are required to report incidents in which injured park customers require hospital intervention.
Further, in depositions, Universal employees admitted that they knew that some people went too fast on the slide and this resulted in severe injury when they hit the water. In this case, a man suffered paralysis from the force of exiting the slide.
Punitive Damages Standard in Florida
Punitive damages are awarded in cases of intentional misconduct or gross negligence. If the executives at Universal knew about the danger of the slides and then did nothing about it, allowing more patrons to sustain injury, then that would easily be grounds for punitive damages since the negligence shows a disregard for the safety of their patrons.
Talk to a Miami Trial Attorney Today 
If you've been injured due to the negligence of another party, call the Miami personal injury attorneys at the office of Alan Goldfarb, P.A. today to discuss your situation and learn more about how we can help.
Resource:
orlandosentinel.com/business/tourism/os-bz-universal-lawsuit-punitive-20200914-mreqlljnm5hfxi3xl5arcjrv5e-story.html
https://www.goldfarbpa.com/volcano-bay-waterslide-is-the-subject-of-73-injury-claims/