South Beach Hit And Run Mars Holiday Break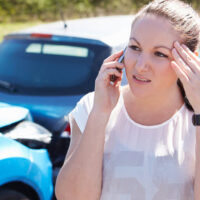 A student visiting Miami Beach from Boston over his holiday break continues to recover from an accident that left him with numerous broken bones after a driver plowed him while he was standing on a sidewalk and then drove away. The victim is surprised that the driver who, according to police reports, was caught on video has not yet been caught and hopes that the driver will at some point be brought to justice. The accident occurred when the driver swerved onto the sidewalk and hit the victim, who flew into the air as a result of the impact. Hit and run accidents such as this are common in Florida and the situation has shown little improvement over the years despite tougher laws to punish offenders.
Florida's Post-Accident Requirements
Though it is fortunate that the victim was not hurt worse than he was, the driver did not check on the victim and just left the scene without meeting any of the legal requirements set by Florida. According to Florida Code Section 316.027, whenever a driver is involved in an accident that results in death or personal injuries, they have certain specific responsibilities they must meet. A failure to meet these responsibilities can result in criminal charges depending upon the circumstances and extent of injuries suffered by the victims of the accident. In cases in which injury results from an accident, the driver of a vehicle is required to immediately stop their vehicle at the scene and remain at the scene until these requirements are met:
Provide name, address, and vehicle information to anyone injured or involved in the accident;
Provide license or permit to accident victims or law enforcement personnel upon request; and
Provide reasonable assistance to anyone injured in the crash to obtain medical treatment.
If injuries are serious, a willful violation of the law setting forth these requirements is a second degree felony; in cases in which the injuries are not serious, the violation is a third degree felony. On the other hand, if the injuries sustained by an accident victim are fatal, the violation is classified as a first degree felony and one who is subsequently caught and convicted of this offense can face serious criminal consequences including mandatory minimum imprisonment.
Reach Out to Us for Help with Your Case
If you have been involved in an accident and have suffered injuries as a result, you are entitled to receive compensation for your losses. Whether you have medical expenses, lost time from work, pain and suffering, or future medical needs stemming from your accident, you need to speak with an experienced personal injury attorney who can help you understand what options are available to you under Florida law. The Miami car accident attorneys at the office of Alan Goldfarb, P.A. will work with you to determine the best way to proceed to maximize your results and get you the relief you need and deserve. At the office of Alan Goldfarb, P.A. we work hard on your side from start to finish. Contact us now to schedule your free consultation and let us get working for you today.
Resources:
wsvn.com/news/the-lowedown/south-beach-tourist-struck-by-hit-and-run-driver-shares-ordeal/
flhsmv.gov/safety-center/driving-safety/hitrun/
leg.state.fl.us/Statutes/index.cfm?App_mode=Display_Statute&URL=0300-0399/0316/Sections/0316.027.html