Texting and Driving Causes Horrific Accident in South Florida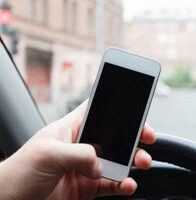 The operator of a vehicle was texting and speeding when he lost control and crashed into a Florida Highway Patrol vehicle, causing serious, potentially life-altering injuries to a state trooper. The negligent driver was reportedly traveling 75 miles per hour in the westbound lane of the Dolphin Expressway near Northwest 107th Avenue when his vehicle crashed into the trooper's Dodge Charger.
Officers investigating the wreck determined that the negligent driver was partaking in a text message conversation when he spun out and hit the trooper, according to the Miami Herald. Police analyzed phone records and data from the vehicle's airbag to arrive at the conclusion about texting and speeding.
The negligent driver turned himself in to the police and was charged with reckless driving with bodily injury and reckless driving with property damage, according to the aforementioned Miami Herald article.
The trooper hit by the texting driver had to be transported to the Ryder Trauma Center at Jackson Memorial Hospital. Doctors indicated that the trooper suffered major injuries to his face, spine and lower extremities necessitating surgery.

Texting and Driving is a Serious Safety Hazard
In 2015, approximately 3,477 people were killed and 391,000 were injured in motor vehicle accidents involving distracted drivers, according to the National Highway Traffic Safety Administration (NHTSA). It has been reported that over 600,000 drivers use cell phones while driving, which creates the serious risk of auto accidents resulting in death and debilitating injuries.
Studies have shown that texting while driving is equivalent to consuming four beers, according to Brain Injury Society. NHTSA conducted a study comparing texting while driving to drinking and driving. The federal agency determined that the impairment levels were shockingly similar.

Florida Law on Texting and Driving
Texting and driving is against the law in Florida. However, drivers continue to text behind the wheel and get away with it because Florida is one of just five states where texting and driving is not a primary offense, according to Fox 13 News. State lawmakers are working to change this and have filed new bills that would give police officers the power to pull you over simply for texting and driving. House bills 47 and 69 would also double fines in school zones and make texting while driving a primary offense for drivers under 18, according to the aforementioned Fox 13 News article.

Pursue Financial Restitution for Your Harms and Losses
If you or a loved one was injured by a careless driver who was texting while behind the wheel, you need to speak to an experienced Miami car accident lawyer today. A lawyer can help you in pursuing financial restitution for your harms and losses including medical expenses, lost wages and pain and suffering.

Miami Personal Injury Attorneys are Here to Help
Our team of Miami lawyers understands and appreciates how difficult recovery from a serious auto accident can be. We are here to help. Contact Alan Goldfarb, P.A. at 305-371-3111 or call toll-free at 866-936-9761 so we can talk about your situation.
Resources:
miamiherald.com/news/local/community/miami-dade/article149806134.html
nhtsa.gov/risky-driving/distracted-driving
bisociety.org/texting-while-driving-vs-drunk-driving-which-is-more-dangerous/
fox13news.com/news/local-news/225718004-story