Truck Driver Settles for $10M After Amputation of Both Legs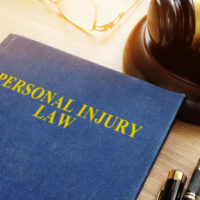 A truck driver has settled a lawsuit for $10 million after losing both his legs in a crush incident. According to the complaint, the truck driver was supposed to be moving eight large pipes to Dura-Bond coating. Upon delivery, the individual tasked with receiving the pipes was supposed to check them to ensure that they were secured properly. In addition, they were also supposed to ensure that the truck driver was out of harm's way when the truck was opened. They failed on both counts and the pipes rolled out of the truck onto the plaintiff crushing both of his legs. As a result, those legs had to be amputated.
Is This a Personal Injury or Workers' Comp Settlement?
Workers' compensation insurance indemnifies your employer against civil tort claims by offering a no-fault package of insurance coverage that pays for medical expenses and lost wages while you recover. The trade-off is that you can't turn around and recover pain and suffering or any other "non-economic" damages.
However, if you're injured on the job by a third party and they can be proven negligent in a court of law, then you can file a lawsuit directly against them. Since the personal injury was caused by a third party, and not your employer, the workers' compensation indemnity isn't triggered.
Amputations and Personal Injury Lawsuits
Accidents that result in amputations have some of the highest payouts in personal injury lawsuits. This is owed primarily to the life-altering nature of the injury. Not only do plaintiffs use the use of very essential bodily organs, but they also suffer a life-long disfigurement that will impact the quality of their lives.
Plaintiffs in these lawsuits must make serious changes to their lives in order to accommodate the loss of their limbs. This can include major alterations to their homes, special modifications to their vehicles, and in some cases, they will need to adapt to prosthetic limbs.
Those who suffer through such injuries report prolonged periods of depression during which they're forced to reconcile the lifelong loss of their body parts and the many activities they will no longer be able to enjoy now that those body parts are gone. Spouses of those who have suffered such injuries report that their spouse may no longer be interested in sex. In some cases, those with such injuries avoid social situations for fear and anxiety over being pitied by those who once respected them.
Amputations are not an easy reality to adapt to. In the case of the truck driver, he will no longer be able to perform the duties of his job and without that income, he will have to figure out a new way to support himself.
Talk to a Miami Personal Injury Attorney Today
If you've lost a leg, arm, or even a finger in a major accident, the Miami personal injury attorneys at the office of Alan Goldfarb, P.A. can help you recover damages related to your injuries. Depending on the severity of the injuries and the extent to which it impacts your life, we may be able to get you millions of dollars. Call us today for a free consultation.
Resource:
post-gazette.com/news/crime-courts/2019/07/10/Robert-Ryder-double-amputee-legs-crushed-lawsuit-settles-10-million-Dura-Bond/stories/201907100125
https://www.goldfarbpa.com/monsanto-hit-with-2b-after-couple-gets-cancer-from-roundup/