Walmart Sued After Employee Dies of Coronavirus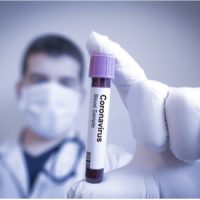 A grieving family has filed a lawsuit against Walmart after their loved one, who was a 15-year employee of the retail giant, died of COVID-19. The family claims that Walmart knew that the premises had become infected with COVID-19 and neglected to tell staff members about the danger.
Fifty-one-year-old Wando Evans told managers that he was sick, but managers "ignored" him. Evans was sent home from work on March 23 and later died of complications related to the virus.
Evans' family has filed a wrongful death lawsuit against Walmart alleging that it knew that Evans (in addition to other employees) were showing symptoms of the virus. Another man who worked at the same store died on March 29.
Walmart expressed regret over the passing of two of its associates and issued a statement related to the safety measures that they had put in place to comply with CDC guidelines.
The Case Against Walmart
The lawsuit alleges that Walmart failed to put in place safety guidelines that could have prevented the man's death. These include failing to enforce social distancing, failing to properly and thoroughly clean the store, and failing to provide protective gear such as gloves and masks.
In response, Walmart had a third-party deep clean and sanitize the store after the employees died. Walmart said it also increased safety measures, adding sneeze guards to cash registers, and allowing the health department in to inspect the store.
Understanding This Lawsuit
The family has a problem. Even though Walmart was probably negligent, since Evans was on the job at the time he died, the family may only be entitled to death benefits via workers' compensation. Typically, employers enjoy broadscale immunity to lawsuits filed by employees in exchange for the no-fault system provided by workers' compensation. Illinois is among those states that require all employers (with very few exceptions) provide workers' compensation to their employees.
An attorney for the family said that he tried to file a claim for burial expenses with Walmart but never received a phone call. If the workers' compensation death benefit policy doesn't apply to this worker, then their family may be able to file a lawsuit directly against Walmart. Walmart would want to avoid that since payments in personal injury suits are much higher than payments in death benefits claims. So this lawsuit may be a way to put pressure on Walmart to satisfy the death benefit claim or risk steeper consequences in court.
Walmart will attempt to dismiss the lawsuit on the grounds of employer immunity, but we won't know how that plays out until the quarantine has been lifted.
Talk to a Miami Personal Injury Attorney
If you've been injured due to the negligence of another person, call the Miami personal injury attorneys at the office of Alan Goldfarb, P.A. today to schedule a free consultation. We have helped hundreds of injured parties successfully file lawsuits against negligent companies. Call today to learn more.
Resource:
cnbc.com/2020/04/06/coronavirus-walmart-employees-family-files-wrongful-death-lawsuit.html
https://www.goldfarbpa.com/the-coronavirus-lawsuits-against-princess-cruises/