Driver of Disabled Vehicle Hit and Killed by Passing Car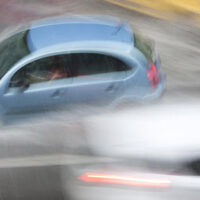 When your vehicle suddenly becomes disabled, the proper protocol is to pull off onto the side of road. There is an expectation that the side of the road is a safe area where you can take a moment to check on your vehicle and have it towed by AAA or another tow service, if necessary. Unfortunately, the side of the road can actually be a very dangerous area for drivers. A prime example is the tragic collision that occurred along State Road 91 near NW 199 Street.
The driver of a truck was killed when his disabled vehicle was hit by a passing Lexus. The 48-year-old victim was operating a flat bed wrecker on State Road 91 when it became disabled. A passing Lexus GS 350, for unknown reasons, failed to safely stop or change lanes as it approached the trust, according to Patch.com. The truck driver died at the scene of the crash.
Deepest condolences go out to the truck driver's friends and family.
The Risks of Injury in Accidents Occurring on the Shoulder of Road
A shockingly high percentage of automobile accidents involve a vehicle that was situated on the shoulder of a road, highway, or interstate. Nearly 20 percent of all motor vehicle accidents actually occur off the roadway including near a median or on the shoulder of the road. Approximately 12 percent of all deadly accidents in highways involve a vehicle that was on the shoulder of the road.
Drivers Must Adhere to "Move Over" Law
If you see a vehicle that is disabled and pulled over on the shoulder of the road ahead of you, be proactive and change lanes as soon as traffic allows you to do so. away from the stopped. This is not optional. In Florida, this is the law, especially when there is an emergency vehicle present (e.g., police vehicle). In fact, according to Florida Statute 316.126(1)(b)(1)(2), every driver has the responsibility to move over when approaching an authorized emergency vehicle or wrecker that is on the shoulder of a road, highway, or interstate.
Holding the Responsible Party Accountable for the Accident
If you or a loved one suffered a catastrophic injury or death in a roadside or shoulder car accident, you need to take legal action against the reckless driver who hit you or your loved one. There needs to be a thorough investigation of the accident scene. Witnesses, if any, need to be contacted and interviewed.  Medical records need to be compiled and analyzed. Accident reports need to be obtained and studied. These are just some of the reasons why it makes sense to hire an experienced Miami car accident lawyer to help pursue justice against the reckless driver who caused your harms and losses. It is also important to have an attorney working on your behalf because they can explore all possible forms of available insurance coverage to ensure you are compensated appropriately.
Speak to a Miami Car Accident Lawyer Right Away
The Miami lawyers at the office of Alan Goldfarb, P.A. have represented thousands of clients over the years of serious car accident cases, including car wreck wrongful death cases. Contact our office today to schedule a free, confidential case review with one of our legal professionals.
Resource:
patch.com/florida/miami/driver-disabled-truck-killed-state-road-91