Texting And Driving Safety Bill Advances In Florida Legislature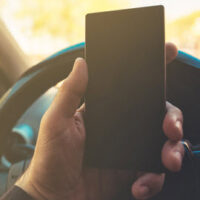 A piece of legislation that would make texting and driving a primary offense unanimously passed through the House of Representatives in Florida, according to Miami 7 News.
House Bill 33 would give Florida police officers the authority to stop motorists when they are spotted texting while driving.
Florida Lagging Behind the Rest of the Country
Florida is one of only a handful of states where police officers are not able to pull over a driver who is seen texting and driving. Distracted driving is categorized as a secondary offense, which means officers can only issue a citation for texting when a motorist is first pulled over for other traffic violation (e.g., speeding, non-functioning tail light, etc.). According to the Miami Herald, 14 states and Washington, D.C. prohibit motorists from using mobile devices when driving at all times.
House Bill 33 Still Has Legislative Hurdles to Overcome
As mentioned, House Bill 33 would allow Florida police to ticket motorists who were engaging in texting while driving and no other offense needs to have occurred. Though, House Bill 33 is not law yet. It must still pass through two more panels in the Florida legislature.
Texting While Driving is a Major Safety Issue
The reason states are passing laws prohibiting the use of cell phones while driving is because of the clear evidence showing the dangers of distracted driving. For example, according to the Florida Department of Highway Safety and Motor Vehicles, close to 50,000 automobile accidents in the Sunshine State were caused by distracted driving in 2016. If that was not bad enough, more than 200 of these accidents resulted in someone losing their life. The Virginia Tech Transportation Institute released a study showing that distracted drivers were more than twice as likely to be involved in an accident than other motorists who were not distracted.
Pursuing Financial Restitution Against a Distracted Driver Who Injured You
If you or a family member was involved in a car crash caused by a distracted driver, you can take
legal action to hold them accountable. This is because all motorists in Florida have a legal obligation to operate their cars, trucks, SUVs, etc. in a reasonably safe manner. Texting while driving is a clear violation of that duty and would constitute a breach of duty. If the distracted driver's breach of duty proximately caused your accident, you can hold them liable for your harms and losses. This would enable you to seek compensation for the economic and non-economic harms and losses you
suffered as a result of the crash including:
Medical expenses (incurred and future expenses)
Lost wages (including potentially future earnings)
Pain and suffering
Punitive damages (depending on the facts of your case)
Do You Have Questions About Your Legal Rights After a Car Accident with a Distracted Driver? Speak to a Miami Car Accident Attorney
If you or a family member suffered a serious injury in a car accident in or around Miami, our personal injury law firm is ready and able to assist in pursuing compensation for you. Contact the experienced Miami personal injury attorneys at the office of Alan Goldfarb, P.A. today to schedule a free consultation.
Resources:
wsvn.com/news/local/bill-to-ban-texting-while-driving-moves-forward-in-florida-house/
miamiherald.com/news/politics-government/state-politics/article188131609.html