Stunt Woman Sues Resident Evil Producers After Loss of Limb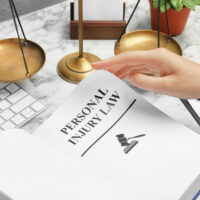 British stuntwoman, Olivia Jackson, was the stunt woman for Milla Jovovich in the final installment of the film franchise, Resident Evil: The Final Chapter. The scene during which she was injured occurred in South Africa in 2015. The motorcycle that she was riding crashed into a camera that was not raised in time. As a result, Jackson suffered a severe injury that resulted in the amputation of her left arm. She also had to be placed into a medically-induced coma while the doctors saved her life.
According to the lawsuit, the producers agreed to pay Jackson's medical costs but never made good on that offer. The complaint also states that a scene was changed at the last moment. Originally, Jackson was supposed to be filming a fight scene, but the producers changed the scene to a motorcycle chase. The plaintiff alleges that because the scene was haphazardly conceived and thrown together at the last minute, an avoidable mistake occurred. A camera that was supposed to rise as Jackson rode toward it, never rose. She collided with the camera.
Damages in This Lawsuit
Typically, work-related injuries would be covered under worker's compensation policies. However, studios hire stunt people as independent contractors, not full-time employees. If negligence occurs and it is demonstrably the fault of those on the set, an independent contractor would be able to sue the studio directly. In this case, that is precisely what Jackson is doing.
Her damages are considerable. Not only does she claim the surgery that saved her life cost around $750,000, but she will now no longer be able to work in her chosen profession. She also says that she suffers from chronic pain and she has suffered a visible mutilation.
A lawsuit like this could reach eight figures. Presumably, stunt people make a decent amount of money. Her yearly would be prorated over the court of her remaining viable years of employment and she would be entitled to every penny that she would have earned during that period. The disfigurement alone is likely worth over a million dollars and there are still medical expenses and pain and suffering to add to that. In addition, there will likely be ongoing costs of care to deal with the loss of limb. Jackson can be compensated for any training she would require to pursue new employment.
In this case, negligence is very easy to prove. The camera was supposed to one thing, but it did something else and this resulted in catastrophic injury. The only way that the studio could insulate itself from liability is by claiming that a party independent of the studio was responsible for the accident.
Talk to a Miami Personal Injury Attorney Today
Injuries that result in amputation can be emotionally and physically devastating. They require major lifestyle changes and may compromise your livelihood. If you've lost a limb because of someone else's negligence, talk to the Miami personal injury attorneys at the office of Alan Goldfarb, P.A. today for a free consultation.
Resource:
usatoday.com/story/entertainment/movies/2019/09/12/resident-evil-stuntwoman-sues-film-producers-after-stunt-crash/2306406001/
https://www.goldfarbpa.com/man-stabbed-in-bar-fight-sues-bar/