Tragic Car Wreck Highlights Importance of Uninsured/Underinsured Motorist Coverage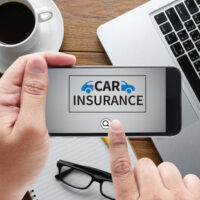 A speeding car crashed into a minivan along Hollywood Boulevard west of Interstate 95 (I-95) in Hollywood, Florida. The collision caused the car to burst into flames, killing the three occupants inside. The driver of the minivan had to be taken to the hospital with serious injuries.
Police indicate that the sedan was speeding on Hollywood Boulevard when it spun out of control and crashed into the minivan, which was turning onto the roadway, according to 7 News Miami. What exactly caused the sedan to spin out of control remains a mystery, as of the date of this posting.

Significant Damages Means Amount of Coverage Will Be an Issue
When a serious car accident occurs, especially one involving multiple deaths, it does not automatically mean that the victims and their loved ones will be able to recover substantial damages through a personal injury claim. Why? Because the amount of available coverage is a critical issue when assessing the amount that could realistically be recovered through a personal injury or wrongful death lawsuit. If, for example, a negligent driver caused a major wreck resulting in multiple deaths, but only had a $50,000 automobile liability insurance policy, the finite amount of coverage leaves the victims with limited options in pursuing maximum recovery.

Uninsured/Underinsured Motorist Coverage
An option available to victims in these situations is to file an uninsured/underinsured motorist claim through their own auto insurance policy. Filing an uninsured motorist claim can get complicated, which is why it makes sense to sit down with an experienced Miami car accident lawyer to discuss the process.
In Florida, drivers are required, by law, to carry PIP (also known as no fault coverage). The amount of coverage required is at least $10,000. In a no fault system, each driver's auto insurance company pays for their insured's harms and losses without considering fault. But for major accidents involving extensive physical injuries or a loss of life, uninsured motorist coverage becomes critical. Uninsured motorist coverage steps into the shoes of the at-fault driver and helps cover medical bills, lost wages, and pain and suffering. Also, your uninsured/underinsured motorist coverage travels with you meaning that if you are a passenger in a car that gets hit, you can still file a claim with your own auto insurance company.
Auto insurance companies in Florida are only obligated to offer uninsured motorist coverage to their customers. It is not a mandatory form of coverage. Nevertheless, it is strongly encouraged that you purchase as much coverage as you can reasonably afford. You do not want to be forced into a situation where you, or a loved one, suffered extensive injuries or a loss of life, and cannot recover for all of your harms and losses simply because there was insufficient insurance coverage.

Miami Car Accident Attorneys Ready to Help You
If you or a loved one was seriously hurt by a driver who had no auto insurance or insufficient auto insurance, contact an attorney in Miami right away. Alan Goldfarb, P.A. is ready to help you and will work tirelessly to get you maximum compensation.
Resource:
wsvn.com/news/local/multiple-casualties-after-fiery-crash-in-hollywood/