Aggressive Driver Causes Deadly Wreck in Orlando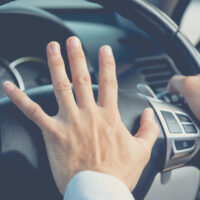 An aggressive driver appears to have caused the deaths of himself and at least two other people in Orlando, according to CBS Miami. The Florida Highway Patrol indicate that a man was operating his BMW in an aggressive manner when he lost control of the vehicle on East Colonial Drive, slammed into a median and flipped over onto a pick-up truck.
The pick-up truck was forced onto the shoulder and ultimately slammed into a fence. Both drivers died at the scene of the crash. In addition, multiple vehicle occupants involved in this awful collision suffered serious, life-threatening injuries. 
Aggressive Driving a Serious Safety Issue
Eight out of 10 drivers surveyed in AAA Foundation's annual Traffic Safety Culture Index ranked aggressive driving as a serious risk that jeopardizes their safety while traveling on roads and highways. This concern is warranted. Aggressive driving actually accounts for more than half of all deadly auto accidents in the United States. Aggressive driving is such a common occurrence in Florida that the Highway Patrol initiated a safety campaign focused on ticketing aggressive drivers to try and cut down the number of serious automobile collisions, according to the Sun Sentinel.   
What is Aggressive Driving?
People oftentimes think aggressive driving is confined to instances of "road rage." In reality, many common driving behaviors, including racing, failing to comply with street signs and traffic regulations, and getting into confrontations with other drivers, qualify as aggressive driving.
According to Florida statute 316.1923, "aggressive careless driving" is defined as committing two or more of the following acts simultaneously or in succession:
Exceeding the posted speed limit;
Unsafely or improperly changing lanes;
Following another vehicle too closely;
Failing to yield the right-of-way;
Improperly passing another vehicle; and/or
Violating traffic control and signal devices.

Why Should I Hire a Personal Injury Lawyer?
There are myriad of reasons why it makes sense to retain the services of an experienced Miami personal injury attorney. A major reason is the alleviation of stress and anxiety. In many cases, shortly after a serious accident, an injured driver is inundated with requests for paperwork from law enforcement, auto insurance companies, and medical professionals. The injured driver is often overwhelmed and is simply trying to keep their head above water. This is where a lawyer can step in and take the burden off of you in many respects. You should focus on your recovery and trying to get back to 100 percent. An experienced attorney can file the necessary paperwork with the insurance company, investigate the accident, collect relevant evidence, speak to witnesses, and file suit (if necessary).
An attorney can also ensure your legal rights are protected. For example, there is a statute of limitations in place for personal injury cases. This means that you are limited in the amount of time you have to file a personal injury lawsuit. If you wait too long and try to file suit after the statute expires, you will likely be barred from going forward in court.
Contact Our Miami Car Accident Injury Attorneys
The Miami legal team at the office of Alan Goldfarb, P.A. is ready to help you and your family after a serious accident. We will advise you of your legal options and advocate on your behalf. Contact our office at 305-371-3111 or toll free at 866-936-9761 to schedule a free, confidential consultation.
Resources:
aaafoundation.org/aggressive-driving
sun-sentinel.com/local/broward/fl-fhp-aggressive-driver-crackdown-20161012-story.html
miami.cbslocal.com/2017/05/21/three-killed-central-florida-crash/