Armored Truck Company Sued After Fatal Accident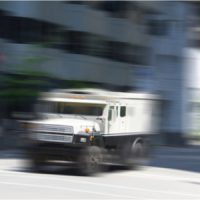 Garda, an armored trucking company, is being targeted for a personal injury lawsuit after the death of a 73-year-old man. According to the family's lawyers, who have filed a wrongful death lawsuit against the company, Garda employed underqualified drivers and routinely allowed trucks that required maintenance to be sent out on delivery.
Garda is described as the "world's largest" cash services and security company. However, Garda has been under fire ever since several accidents occurred throughout the past decade. Concerns over Garda's drivers and vehicle maintenance protocols have put the company in the crosshairs of both personal injury lawyers and government officials.
What Happened?
The plaintiffs contend that Garda employed Christopher Burton who did not have a commercial driver's license. Burton's regular driver's license was suspended at the time of the crash. Plaintiff's lawyers further contend that Burton was distracted at the time of the accident which led to the crash. Burton should not have been allowed to drive to work let alone operate a massive multi-ton armored vehicle that requires specialized training and a CDL.
The plaintiffs further contend that Burton was operating a truck that was not roadworthy. The truck failed a series of mechanical inspections, including, but not limited to the truck's tires which had insufficient tread depth and should have been replaced. The plaintiffs say that the radiator was not securely bolted to the truck's frame.
Investigations into the company yielded troubling results. Garda routinely failed to ensure that their trucks were safe, failed to inspect trucks before taking them out on delivery, and failed to adequately train drivers—all accusations that Garda denies. In 2016, an internal memo raised concerns about Garda's vehicles and drivers. The memo indicated that Garda failed to adequately monitor drivers, allowed numerous maintenance deficiencies to build up, and redeployed drivers immediately after crashes. Twenty-two Americans have died in accidents with Garda vehicles.
Elements of Negligence 
So far, we have:
A driver without a CDL
A driver with a suspended license
A multi-ton vehicle with worn-out tires
A vehicle with parts insecurely attached
We can also add a driver who was using his cellphone for directions because his Garda-issued vehicle did not have a built-in GPS. When the vehicle came on an intersection, Burton failed to yield the right of way to the victim while he was allegedly looking at his cellphone. Meanwhile, federal officials have been telling Garda that their safety protocols do not conform to federal regulations for quite some time.
Armored vehicles are extremely heavy. They don't have the same amount of visibility as smaller vehicles. It takes them longer to come to a stop. An accident like this was inevitable. Garda should be on the hook for punitive damages.
Talk to a Miami Personal Injury Attorney Today
If you've been injured in a trucking accident lawsuit, call the Miami personal injury attorneys at the office of Alan Goldfarb, P.A. today to schedule a free consultation and discuss your injury in more detail. We can help.
Resource:
postandcourier.com/news/lawsuit-garda-enabled-fatal-sc-crash-putting-unlicensed-driver-in-unsafe-armored-truck/article_f7772078-4570-11eb-ae9e-cb49becf400e.html
projects.tampabay.com/projects/2020/investigations/garda-world/armored-trucks/
https://www.goldfarbpa.com/woman-sues-the-government-claiming-a-controlled-fire-led-to-a-multi-car-accident/