Drunk Driver Sues Rental Car Company after Fatal Crash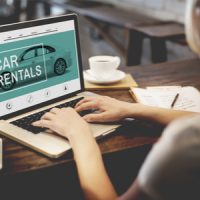 This lawsuit will likely test the bounds of your patience. A man who is serving a sentence for vehicular homicide has filed a lawsuit against Enterprise Rental for wrongful death. His sister was killed in the crash, and his mother was seriously injured. Felix Luis C. Rodriguez filed the lawsuit on the basis that he was way too drunk to be allowed to drive a rental car.
What Happened?
Rodriguez was with his brother-in-law,  Emmanuel Caminero, in March when the incident occurred. Caminero said in an affidavit that his own vehicle was having trouble, but that he couldn't get a rental because his license had expired, and there was a warrant for his arrest. Caminero also said that he was so drunk that day that he could hardly walk. Worse still, Rodriguez did not have a valid driver's license, so he used his younger brother's license. The plaintiffs contend that staff at the rental car agency either knew or should have known that Rodriguez was unfit to drive at the time he rented the vehicle.
Rodriguez was speeding on I-95 when the accident occurred. He attempted to avoid a vehicle as he was weaving through traffic and ended up careening off the road and slamming into a tree. His 26-year-old sister was killed in the accident, and his mother sustained permanent injuries.
A breath test at the time of the accident showed that Rodriguez's BAC was under the legal limit. He was charged with reckless driving, vehicular homicide, and fraudulent use of personal identification. He was never charged with driving under the influence.
It's unclear if this lawsuit was filed by the plaintiff himself or if an attorney took the case for him. In a letter sent to Enterprise, Rodriguez demanded $25,000 or he would seek damages in the amount of $3 million. Judging by that alone, he does not have a lawyer representing him for this case. It is unlikely that he will find a lawyer willing to take this case on contingency since his chances of winning are very slim.
Elements of Negligence
In a trial such as this, the plaintiff must be able to show negligence. While the rental car agency committed supposed negligence by renting the vehicle to a visibly drunk driver, there is no evidence that Rodriguez was anywhere near as drunk as he claimed. If the police had run a breath test and he blew over .20 then maybe he would have a case. But other than the fatal accident, which was ruled a reckless homicide, there's no evidence that Rodriguez was drunk, only reckless.
Talk to a Miami Personal Injury Attorney Today
The Miami personal injury attorneys at the law office of Alan Goldfarb, P.A. represents plaintiffs in lawsuits against individuals and companies whose negligence resulted in injury. Call us today if you have any questions concerning your situation, and we can discuss the merits of your case.
Resource:
tampabay.com/news/business/2020/11/14/driver-in-fatal-wreck-sues-enterprise-says-he-was-drunk-when-he-rented-the-car-in-tampa/
https://www.goldfarbpa.com/firefighters-believe-their-protective-gear-is-a-carcinogen/