Walmart Sued In Mass Shooting Committed By Manager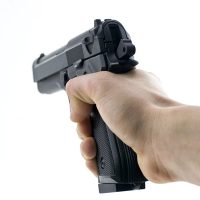 Walmart is currently being sued by the families of 6 employees who were shot and killed by their manager directly prior to him using the gun on himself. The suit has been filed against both Walmart and the gunman's estate. While the case against the shooter is pretty solid, the case against Walmart needs some fleshing out.
In most cases, an individual who is injured on the job can file a claim with the employer's workers' compensation policy. Unfortunately, workers' compensation policies only pay out in the event of an accident. So, if a gun falls off the shelf and takes out 6 employees, they would have to file a claim on workers' compensation. However, because a manager shot and killed the employees intentionally, the workers' compensation insurer will deny the claim.
That leaves the plaintiffs with only one option: To file a wrongful death lawsuit against Walmart. The question then becomes: Is Walmart liable?
Walmart is liable for this shooting 
Corporate personhood may sound like something that only benefits corporations, but it is a bit of a double-edged sword. You see, if one corporation is considered the equivalent of one person, that means every individual in the corporation acts as the corporation when they are on the job. In this case, the manager was acting on behalf of Walmart when he shot and killed the 6 employees. Hence, under the law, it's "the same as if" Walmart had pulled the trigger itself.
On the other hand, Walmart cannot be charged with a crime unless OSHA stepped in which appears unlikely. In that case, OSHA is only allowed to charge a corporation with a misdemeanor, but they cause all kinds of problems for the company.
Negligence 
If an employee shoots a bunch of people and you're injured, you don't have to prove that the employer was negligent to win your case. In this case, the plaintiffs are alleging that Walmart was negligent. They say that they warned Walmart about the manager's conduct and that it was concerning enough to act on the concerns of employees. Walmart did not act on these concerns and so, 6 people were killed and others severely injured. Hence, Walmart is responsible even if corporate personhood and vicarious liability did not factor into the case. Walmart could have intervened and failed.
That will not help Walmart route these claims through workers' compensation which would be much cheaper for them. Since the incident was not an accident, there is no basis for a workers' compensation claim. Walmart likely will pay out millions to settle the claim and pay closer attention to their manager's mental health in the future.
Talk to a Miami Personal Injury Lawyer Today 
Alan Goldfarb, P.A. represents the interests of Miami residents who have been injured by negligent companies or individuals. Call our Miami personal injury lawyers today to schedule a free consultation and we can begin reviewing your case immediately.
Source:
13newsnow.com/article/news/local/mycity/chesapeake/chesapeake-walmart-mass-shooting-lawsuit-randy-blevins/291-7371cb4b-5b03-442d-a4aa-05d3d9078435