Gabby Petito Lawsuit Could Test Strength Of Sovereign Immunity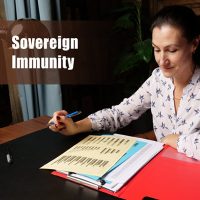 When a department implements a policy, it's usually because something happened somewhere and a death could have been prevented. When Gabby Petito was interviewed by police, it would have been clear to them that she sustained facial injuries during a domestic dispute. In this case, Utah police had a policy in place that required them to separate the couple. Had they followed this policy, Gabby Petito would still be alive. Since they did not, the family believes that Utah police should be held accountable.
This is a difficult situation for the plaintiffs. In most cases, a police department does not have a duty of care to do any specific thing on behalf of the public. The Supreme Court has ruled the law enforcement has ultimate control over how they handle calls. There is a small window of liability when the department violates one of its own policies. In this case, law enforcement did not follow its own policy and a woman died.
The policy was likely in place because of numerous incidents related to preventable deaths that occurred when an officer failed to separate a couple.
Selfie establishes abuse 
Reconstructing what happened the night of Gabby Petito's death has been difficult, but an attorney for the family recently divulged a selfie taken by Petito before the murder that shows she had bruising on her face. That would establish that the police officers had a duty of care to act in light of the policy. They failed to do so, even though Petito was showing obvious signs of abuse, and she was murdered shortly thereafter. Hence, the family believes that Utah police are responsible for Petito's death.
The selfie is there to establish that the police had an actionable duty of care at the time they were called to the domestic disturbance. If Petito looked fine when they showed up, it could be a different matter altogether. Every police department establishes its own internal department policies. The policies protect both the police department and the public.
The family contends that the officers ignored the severity of Petito's injury. They believe that her fiance evidenced signs that he would kill her via the bruising left around her neck. Petito would be found strangled to death later.
Sovereign immunity 
Sovereign immunity is a difficult barrier to overcome. While you can file lawsuits against police and government, the lawsuits tend to be capped at $200,000 (in Florida) and maybe a little more elsewhere. To recover more than the cap, you must petition the legislature which can often make it years before a plaintiff sees a penny, if ever. So, the government makes it harder, but not impossible to file suits against them.
Talk to a Miami Personal Injury Lawyer Today 
The Miami personal injury lawyers at the office of Alan Goldfarb, P.A. represents the interests of residents injured by negligent companies and individuals. Call today to schedule a free consultation and learn more about how we can help.
Source:
cbsnews.com/miami/news/selfie-taken-by-gabby-petito-shows-she-had-a-facial-injury-on-the-day-she-was-interviewed-by-moab-police-over-domestic-disturbance-call-lawyer-says/