Lawsuit Filed After Teen Suffers Anaphylaxis At Panera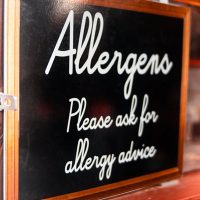 A Panera outlet was sued after they allegedly served a nut-riddled pastry that set off an allergic reaction. The mother just happened to be taking the teen to his doctor that day, and he was at the doctor's office when he began showing symptoms. The teen was given Benadryl and several epinephrine shots. According to the lawsuit, there was no indication that there were nuts in the pastry.
Analyzing Panera's defense strategy 
According to Panera, the woman stood in front of a large sign that read "Our foods may come into contact with allergens. If you have allergies, contact a manager about the ingredients." Panera claims that the woman never asked a manager about the ingredients but assumed that the pastry would be nut-free based on the type of pastry it was.
The teen and her son were still able to recover $25,000, but the jury awarded 70% of the negligence to his mother and only 10% to the teenage son, and only 20% to Panera, reducing their award to about $5,000.
This is largely why civil defense attorneys will blame plaintiffs for their own injuries. In some cases, it works. In other cases, it backfires. In this case, it worked. The plaintiffs won a 20% recovery and the majority of that would have been eaten up by litigation fees.
Should the plaintiffs have recovered more money? 
The success of a civil defense strategy does not automatically mean that the case was unwinnable. In this case, there were plenty of reasons to hold Panera responsible. Firstly, a clerk for the Panera testified that many of the pastries were mislabeled that day. Further, pecan pastries generally have pecans on top. The pastry served to the teen had no such pecans. Lastly, if a customer asks about food allergies, the Panera policy is to refer the customer to a manager. However, the manager had yet to show up to work that day making it impossible for the clerk to do so. Tree nuts remain the most common allergic reaction suffered by individuals at restaurants.
Because there was no way that Panera could enforce their own policy and because the pastries were mislabeled, Panera should have been assigned more of the blame than it was. Instead, the jury determined that the mother was mostly responsible for her son's injury leaving her feeling attacked.
But understanding that this is a strategy that is likely to be employed against you in a personal injury lawsuit is important. Civil defense attorneys are not paid to empathize with injury victims. They are paid to reduce their client's liability by whatever legal means are available to them. Aggressive defense to some allegations will pay off for civil defendants. Unfortunately, you can never predict how a jury will respond to specific allegations.
Talk to a Miami Personal Injury Attorney Today 
If you've been injured due to the negligence of another person or company, you are entitled to recover damages related to your injuries. Call the Miami personal injury lawyers at the office of Alan Goldfarb, P.A. today to schedule a free consultation and learn more about how we can help.
Source:
allergicliving.com/2022/01/12/severe-snack-reaction-a-teens-trauma-and-food-allergy-lawsuit/