Man Killed In Accident With Publix Truck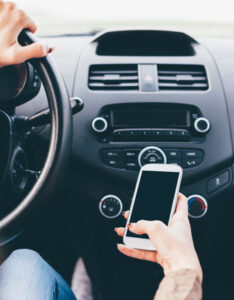 A man was killed and another one injured as a result of an accident involving a BMW and a Publix truck on US Highway 1 one recent Tuesday morning. The crash, which occurred in the early morning hours, shut down both sides of the highway as authorities worked to clear the wreckage and tried to assess what happened. The driver of the BMW was killed, and his passenger transported to an area hospital, though the driver of the truck was not physically injured. According to reports, the driver's cell phone was found near his hand.
Distracted Driving – Dangerous And Deadly
While there is no determination in this case whether the accident was the result of distracted driving, the discovery of the cell phone near the driver's hand does bring the possibility to light. Distracted driving – in particular, texting while driving – is a growing problem as society in general becomes more and more dependent upon technology and social media. The dangers of texting and driving are well documented and known to all of us, yet the practice shows little signs of stopping. Distracted driving in general is any type of activity, whether mental or physical, that causes a driver to take his or her focus off the road. It may be caused by any kind of electronic devices such as cell phones, DVD players, the radio, and navigation systems, other distractions both inside and outside the vehicle such as other passengers' activities or an animal on the road, and even a driver's wandering mind.
The Name Says It All
Florida law prohibits texting while driving – which can easily be determined just by the name of the law itself – "Florida's Ban on Texting While Driving Law." Enacted with the intent of improving safety on the roads for everyone using the road, preventing crashes, and reducing the human and property costs of crashes caused by texting and driving, the law authorizes police officers to cite drivers who are texting while driving – but only as a secondary offense after having been pulled over for another reason. Exceptions to the law are in place for those using electronic devices for valid reasons while behind the wheel, such as those working as emergency personnel, or to receive emergency or safety information, or for those using hands-free technology; in general, however, the ban applies to everyone behind the wheel of a vehicle being operated on Florida's roads.
Have You Been Injured In An Accident Involving Distracted Driving?
If you or someone you love has been injured in an auto accident caused by distracted driving, it is important that you speak with an attorney to learn about your rights and responsibilities under Florida law. You may be entitled to compensation for your injuries and losses, but you will need to take prompt action to ensure you do not lose those valuable rights. The Miami attorneys at the office of Alan Goldfarb, P.A. will work with you to determine the best case strategy to maximize your results and will fight hard for your rights every step of the way. Contact us now so we may help you get the results you deserve.
Resource:
local10.com/traffic/fatal-crash-involving-publix-truck-bmw