Man Shot Six Times Wins Premises Liability Lawsuit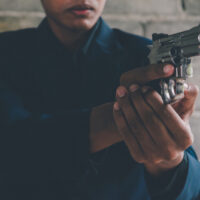 Dennis Gore was visiting a North Miami Beach apartment complex when he was shot six times. In 2014, Gore had left a flag football game and went to his mother's apartment where he and a friend watched the NBA playoffs. Gore left later to get a compression bandage at a local Walgreens. Upon leaving the apartment, Gore realized that he left his wallet behind and told his friend to get the car while he ran back in and grabbed it. After getting the wallet, Gore was confronted by a stranger in the stairwell. The man got his attention and that was when Gore realized the man was pointing a gun at him. Gore attempted to flee but was grabbed by another man. He was able to break free but was shot while trying to escape.
One of the bullets fractured his hip while the other virtually destroyed his kidney. Other bullets had perforated his large intestine and required extensive surgery. The fact that Gore survived at all was a miracle.
Gore's attorneys were successfully able to argue that due in large part to the layout of the apartment complex, it would have been very easy to secure. They further argued that the defendant had a duty to secure the safety of tenants at the apartment complex and that the apartment complex was negligent for not adequately protecting its tenants in what is largely regarded as a high crime area.
In response, attorneys for the apartment complex settled the personal injury lawsuit for $3 million.
Elements of this Personal Injury Lawsuit
In a premises liability lawsuit, a plaintiff must be able to prove negligence. In other words, the plaintiff must prove that the premises' owner or management failed to act in accord with a basic standard for securing the safety of those who frequent the premises. In addition, an attorney must show that the owner or management of the premises owed the injured party a standard of care. They must finally show that by breaching this standard the plaintiff suffered injuries.
The major point of contention in a lawsuit such as this is establishing that the defendant owed the plaintiff a standard of care that was breached. In premises liability tort, this is known as security negligence. The plaintiff brought several witnesses who complained that the apartment complex offered extremely lax security. Several witnesses attested to the fact that doors entering the apartment complex were easily accessible to criminals. In many cases, doors were left open.
The defense countered that this was a robbery that had gone bad and blamed the injuries on Gore's negligence. Nonetheless, they settled the lawsuit.
After undergoing several extensive surgeries, Gore continues to have difficulty walking and lives with daily pain. This will make it difficult for him to enjoy the kinds of sports he once enjoyed.
Have You Been Injured by Another Party's Negligence?
If so, the attorneys at the office of Alan Goldfarb, P.A. of Miami can help get you the justice that you deserve. Give us a call at 305-371-3111 or contact us online, and we will begin preparing your case immediately.
Resource:
law.com/dailybusinessreview/2018/06/18/miami-lawyers-negotiate-3-million-settlement-for-visitor-shot-at-apartment-complex/