Pedestrian Killed While Crossing Miami Beach Road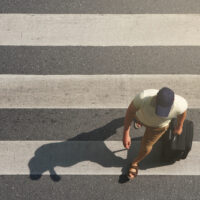 When a pedestrian is hit by a motorist, the ramifications are usually severe. For example, a pedestrian who was crossing near Alton Road and Sixth Street in Miami Beach died after being struck by a car, according to NBC Miami. The pedestrian died at the scene.
Take Legal Action to Hold the Negligent Motorist Accountable
If you suffered a serious injury after being hit by a motorist while crossing the street, or you lost a loved one in a collision, you should consider filing a personal injury or wrongful death lawsuit to seek compensation for the following harms and losses:
Incurred Medical Bills: These costs include bills from the emergency room, ambulance, and immediate treatment after the wreck.
Future Medical Bills: You can also seek reimbursement of future medical costs such as rehabilitation, physical therapy, surgery, prescription medications, and so forth.
Lost Income: If your bodily injuries caused you to miss significant time from your job, you can pursue reimbursement for that lost income.
Future Lost Earnings: If your bodily injuries are so severe as to leave you partially disabled or fully disabled, you can also seek reimbursement for future earnings you would have made had the accident never occurred.
Pain, Suffering, Mental Anguish etc.: These are "non-economic" damages that are not easily calculable or fit neatly onto a spreadsheet. These are damages meant to compensate you for your stress, psychological trauma, anxiety, depression, and so forth.
If you lost a loved one in a crosswalk accident, you can pursue all of the above-described damages, in addition to the following:
Loss of Support and Companionship Provided by the Decedent
Loss of Guidance Provided by the Decedent
Funeral Costs
Burial Costs
Common Causes of Pedestrian vs. Motorist Collisions
In many instances, pedestrians are hit by motorists who were negligent in some form or fashion. Negligence is basically a breach of a duty that proximately caused injuries to a plaintiff. The following actions, or inactions, by motorists are generally considered to be forms of negligence:
Drunk driving
Speeding
Failing to pay attention
Failing to yield the right of way
What If You Were Partly Responsible for Causing the Accident?
In some instances, there may be fault assignable to both a pedestrian and a motorist. If you find yourself in this situation, do not fret. Florida is a comparative negligence jurisdiction. This basically means a jury can assign fault on a percentage basis so the negligence is shared and your financial recovery is reduced (but not barred entirely). This is a much more equitable system than what is used in some other jurisdictions like Virginia, North Carolina, and Maryland that prohibits a plaintiff from obtaining a financial recovery if they were even just one percent at fault.
Contact a Miami Crosswalk Accident Injury Lawyer Today
If you suffered a serious injury after being hit by a motorist in Florida, it is important to take legal action sooner rather than later. You need someone to go to work for you to investigate the collision and build a persuasive case on your behalf. The Miami crosswalk accident injury lawyers at the office of Alan Goldfarb, P.A. are ready to help.
Resource:
nbcmiami.com/news/local/Pedestrian-Struck-Killed-While-Crossing-Miami-Beach-Road-454977173.html