Two Pedestrians Hit And Injured In Davie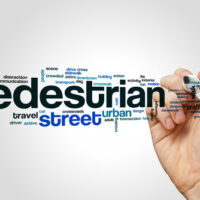 Two teenage pedestrians were reportedly hit and seriously injured while crossing the street near Western High School in Davie, Florida. The collision took place around the 1200 block of Southwest 136th Avenue. Reports indicate that the driver of a Dodge Neon hit two female pedestrians, who may have been students at a nearby high school, who were crossing the street, according to Local10 News.
The two teenage girls were transported to the Broward Health Medical Center with serious bodily injuries.
Sadly, reports of serious pedestrian accidents are fairly common in Florida. In fact, cities in the Sunshine State are routinely ranked at the top of Smart Growth America's list of the most dangerous places to walk. Smart Growth America published a report titled "Dangerous by Design." The report examined over 100 cities across the country. Of the top ten most dangerous metro areas in the entire United States, eight are located in Florida, according to City Lab.
Nationally, the numbers are not much better. For example, over 5,300 pedestrians were killed in collisions with motor vehicles in 2015. That equates to almost 15 lives lost each and every day of the year, according to Pedbikeinfo.org. In addition, there were close to 70,000 pedestrians seriously injured in collisions with automobiles in 2015. That represented a 15 percent increase in the number of pedestrian injuries when compared to accident data from 2006.
Common Injuries Suffered by Pedestrians After Being Hit by a Car
When someone is hit by a vehicle, even at a relatively low rate of speed, they could be at risk of suffering the following types of bodily injuries:
Traumatic brain injury
Spinal cord injury resulting in complete or partial paralysis
Low back injury
Internal bleeding
Fractured bones
Ligament tears
Neck, shoulder and knee injuries
Monetary Damages You Can Pursue Through a Pedestrian Accident Injury Claim
If you or a family member suffered a serious bodily injury after being hit by a motorist while crossing the street, you may be able to pursue monetary compensation for:
Medical expenses incurred as a result of the accident
Lost income and future earnings
Pain, suffering, mental and emotional distress, and other non-economic harms
In order to collect monetary compensation, your Miami crosswalk accident lawyer can assist you with filing a PIP benefit claim. These benefits are paid as part of the no-fault auto insurance system currently in place in Florida. There are a number of restrictions and deadlines for obtaining PIP benefits, so take action right away.
If your economic and non-economic damages exceed your PIP benefits or the driver's PIP benefits, you can file a civil lawsuit to seek additional damages.
Contact a Miami Pedestrian Accident Injury Lawyer Now
If you or a family member suffered a serious bodily injury after being struck by a car, truck, or other vehicle in Florida, you need to take legal action right away. The Miami pedestrian accident injury lawyers at the office of Alan Goldfarb, P.A. are ready to help. Contact our office to schedule a free case review.
Resources:
local10.com/traffic/2-females-struck-by-car-near-western-high-school-in-davie-police-say
citylab.com/transportation/2017/01/why-florida-has-americas-most-lethal-roads/512954/
pedbikeinfo.org/data/factsheet_crash.cfm