Private Bus Accident Injures Children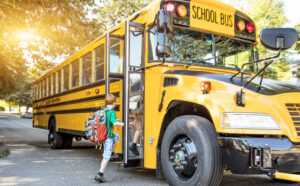 Several children suffered minor injuries during an accident while on their private school bus when a driver of a passenger vehicle ran a stop sign and caused the bus to hit a concrete wall in Hialeah. The three children, along with the bus driver, were all taken to a local hospital for treatment of their injuries; about a dozen other children were also on the bus at the time of the accident but were unharmed. The driver of the passenger vehicle, according to reports, was cited for careless driving.
Bus Accident Statistics
Thankfully, no one was seriously injured in the Hialeah bus accident, but school bus accidents themselves are a serious issue. Though they occur with relative infrequency, when they do occur it is a scary situation for those involved as well as their families, particularly because they involve our most precious cargo – our children. According to the US Department of Transportation National Highway Traffic Safety Administration, of the nearly 350,000 fatal traffic accidents recorded in an approximate 10-year period beginning in 2003, slightly over 1200 of the accidents involved a school transportation vehicle. The state of Florida ranks high on the list of states with the most fatal school transportation vehicle accidents. Sadly, these accidents resulted in the deaths of not only children who were passengers on the vehicles, but over twice as many more pedestrians who were struck by the vehicles.
Seat Belts And School Buses
Interestingly, school buses are often not equipped with one of the most important and effective safety measures that can be used in a vehicle – a seat belt – and in most states their use on a school bus is not required by law. It is not surprising, then, that of the children killed in those fatal accidents over that 10-year span, very few of them were actually wearing a seat belt. Most older school buses are not equipped with seat belts, but a push by those aware of and concerned about the safety issue has been ongoing for new vehicles to be equipped with safety belts; only a few states have enacted legislation regarding seat belts in school buses, though Florida is among those few.
Help Available For Your Bus Accident Case
If you or your loved ones have been involved in an accident while on a bus or any other form of mass transit, you need to speak with an attorney who is experienced with these types of cases to ensure you receive the best results possible. Often times, determining fault in an accident involving a mass transit vehicle may be more complicated and complex than if the accident is merely caused by error on the part of the driver of mass transit vehicle or any other vehicles involved. The Miami attorneys at the office of Alan Goldfarb, P.A. will help you to understand your rights and responsibilities as well as your legal options after a mass transit accident. Contact us now to allow us to help you get started working towards the recovery you deserve to receive.
Resources:
local10.com/news/hialeah-school-bus-crash
crashstats.nhtsa.dot.gov/Api/Public/ViewPublication/811890