Injured In A Mega Bus Accident – Understanding Your Legal Rights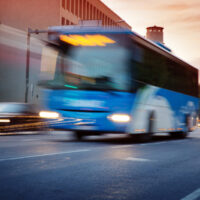 The popularity of using Megabus has exploded over the years due to intense marketing campaigns and rock-bottom pricing. For example, some Megabus vehicles offer inter-state travel for literally $1. This may sound like an incredible bargain, but be aware that you may be at higher risk of suffering a catastrophic bodily injury if you decide to ride on a Megabus.
Since 2013, at least 22 major accidents involving Megabus have been reported in the United States. Investigations into these accidents oftentimes found evidence that the bus driver was speeding, was fatigued due to being on the road for hours on end, or even was intoxicated, according to the Six Thirty.
According to the U.S. Department of Transportation, more than 23,000 people suffer serious injuries in bus accidents each and every year. If that was not bad enough, an estimated 12,000 kids are hurt in bus accidents.
Commonly-Reported Injuries in Bus Accidents
When an accident occurs involving a large commercial bus, the ramifications for the passengers can be devastating. This is because passengers on many Megabus vehicles are not afforded the option of wearing a seat belt. This creates a serious risk that passengers will be tossed around and propelled throughout the bus if a collision occurs or a bus tips over. As a result, commonly-reported bus accident injuries include:
Traumatic brain injuries;
Broken and fractured bones
Nerve damage
Partial or total paralysis
Torn ligaments
Internal bleeding
Facial lacerations
Legal Action After a Megabus Accident
If you or a family member was seriously injured in an accident while riding on a Megabus or other large commercial bus, it is important to sit down with an experienced Miami bus accident attorney to discuss your legal options.
Establishing liability in a commercial bus accident can get complicated very quickly. This is because liability may extend beyond just the driver. In fact, liability will likely extend to the bus company and potentially other third parties. Here is a brief overview of the potential defendants in a commercial bus accident injury case:
Driver of the Megabus: If there is evidence that the Megabus driver was distracted, fatigued, intoxicated, or negligent in some other way, they will likely be held liable for causing the wreck.
Company that Hired the Driver and Owns the Bus: When an employee's negligence harms a customer, liability extends to the employer under the legal theory of respondeat superior. Therefore, if the bus driver was careless or negligent, the bus driver's employer is also potentially liable. In addition, commercial bus owners are obligated to perform regular maintenance of their vehicles to ensure they are safe.
Manufacturer of the Megabus – Liability may extend to the manufacturer due to a design or manufacturing defect that proximately caused the wreck.
Do You Have Questions About Your Legal Rights After a Megabus Accident? Speak to a Miami Bus Accident Lawyer
If you or a family member was seriously injured in a Megabus crash in or around Miami, our personal injury law firm is here to help. Contact the experienced Miami injury attorneys at the office of Alan Goldfarb, P.A. today to schedule a free consultation.
Resources:
thesixthirty.com/news/megabusted-the-terrifying-track-record-of-megabus/
fmcsa.dot.gov/safety/data-and-statistics/large-truck-and-bus-crash-facts-2014