Robbed of Your Future – The Devastating Effects of a Spinal Cord Injury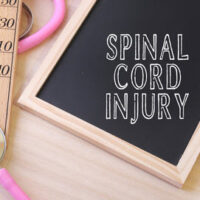 Approximately 10,000 to 12,000 people suffer serious spinal cord injuries every year in the United State, according to the National Institute of Neurological Disorders and Strokes (NINDS). A shocking 40 percent of spinal cord injuries occur in major auto wrecks and 35 percent are related to workplace accidents, slip and falls, and accidents during sporting activities (e.g., injured while playing football).
Suffering a spinal cord injury can be life-altering and effectively rob you of your future. Why? Because a serious spinal cord injury can cause:
Total paralysis;
Partial paralysis;
Inability to control your bladder; and/or
Inability to function sexually.
In many cases, the damage to the spinal cord is irreversible. This means the injury could alter the trajectory of your life and rob you from fulfilling your goals and dreams. There is also the tremendous financial strain placed on a spinal cord injury victim. You will likely incur significant medical expenses like:
Emergency room bills;
Physical therapy bills;
Pain medication;
In-home care bills (if needed); and/or
Purchasing a wheelchair and modifying your home for a ramp.
If you or a loved one suffered a spinal cord injury in a car accident, motorcycle accident, pedestrian collision, etc. you should contact an experienced personal injury law firm to discuss your legal options. Depending on the facts of your potential case, you could pursue financial restitution against the negligent party that caused your injury.

Damages that May Be Pursued in a Spinal Cord Injury Lawsuit
Obviously, no amount of money will be able to heal your injury. Nevertheless, our civil courts allow aggrieved parties to pursue monetary damages in an effort to obtain financial recovery for their harms and losses. Damages that can be pursued include may include both incurred and future medical expenses, lost wages, and pain and suffering.

Do Not Delay – Deadlines for Filing a Spinal Cord Injury Lawsuit in Florida
If you or a loved one suffered a serious injury in an accident caused by another person's negligence, you only have a finite amount of time to take legal action. Under Florida law, there is a statute of limitations on the filing of civil lawsuits in the state. You have four years from the date of the accident to file a personal injury lawsuit in Florida. If you fail to file your personal injury case within four years of the date of the accident, a court will likely bar your case from going forward. There are also certain exceptions and loopholes in Florida's statute of limitations. For example, if you or a loved one was hit by a city vehicle and you suffered a spinal cord injury, you only have three years from the date of the collision to file a lawsuit against the city or other local entity.

Miami Spinal Cord Injury Lawyers Ready to Represent You
As you can see, pursuing damages through a personal injury lawsuit can get complicated. You should focus on your recovery. Let the experienced lawyers at the Miami office of Alan Goldfarb, P.A. take the burden off your shoulders and advocate on your behalf with the insurance adjusters. We fully appreciate and understand all the costs and challenges associated with a spinal cord injury. That is why we fight to get those costs compensated by the party or parties responsible for causing your injury. Contact our office today.
Resource:
ninds.nih.gov/Disorders/All-Disorders/Spinal-Cord-Injury-Information-Page