Injury on a Cruise Ship – What You Need to Know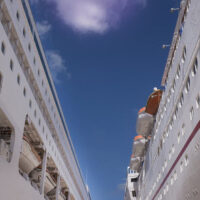 Taking a vacation on a luxury cruise ship should be a fantastic experience that leaves you with a lifetime of memories, not a lifetime of injuries. Unfortunately, many cruise ship guests and employees wind up suffering serious injuries, or even lose their life, while out on the open sea. If you or a loved one was harmed while on a cruise ship, you need to contact a lawyer right away to assess your legal options.

Your Legal Rights When Harmed On a Cruise Ship
There is a duty of care that is required for all motor vehicles, aircrafts, and watercrafts (including cruise ships). The operator of a cruise ship owes its passengers a heightened duty of safe transport under the Shipping Act of 1984, 46 U.S.C. §1702(6). This is because cruise ships departing from ports within the United States are considered common carriers. The heightened duty of care means that a cruise ship must make reasonable efforts to protect passengers from physical harm and ensure they arrive safely to their destination. This heightened duty of care applies to not just boat accidents, but protection from assault, rape, or other criminal acts by crew members or other passengers.
When a guest is injured aboard the cruise ship, they may have the grounds to file a personal injury claim against one or more of the following entities:
the cruise ship owner;
the company that chartered and/or operated the ship; and
the company that sold the ticket to you or a loved one since they were acting as an agent of the cruise ship owner, operator or charterer.

Taking Legal Action Against a Cruise Ship Company Can Get Complicated
Filing a lawsuit against a large commercial cruise ship company is not the same as filing a claim against an auto insurance company in a fender-bender. The terms and conditions contained on the back of your cruise ship ticket can dramatically alter your legal rights to pursue financial restitution against the cruise line. For example, the court where suit must be filed could be governed by the terms on the ticket and many cruise lines purposefully require filing in company-friendly jurisdictions, or even in foreign countries. For example, the Costa Concordia capsized a few years ago causing serious injuries to passengers. Costa Concordia is owned by Carnival Corp., which is a U.S. company based outside Miami. However, the litigation involving this cruise ship accident took place in Italy and Italian law applied. Why? Because the ticket stated that any judicial matters would be heard in Italy, according to the ABA.
The cruise ticket may also require you to give notice of your injury to the cruise line within a finite period of time, usually between four and six months. They can also arbitrarily reduce the statute of limitations to one year from the date of the accident.

Contact Experienced Miami Cruise Ship Accident Lawyers
As you can see, taking legal action against a cruise ship is complicated and involves a myriad of state and federal laws. Do not fight this alone. Let an experienced attorney at the Miami office of Alan Goldfarb, P.A. advocate for you and fight for maximum compensation. Our firm has nearly four decades of experience taking on big cruise ship companies and we are ready to fight for you.
Resources:
law.cornell.edu/uscode/html/uscode46a/usc_sec_46a_00001702—-000-.html
abajournal.com/magazine/article/for_vacationers_encountering_trouble_on_cruise_ships_u.s._laws