Volcano Bay Waterslide is the Subject of 73 Injury Claims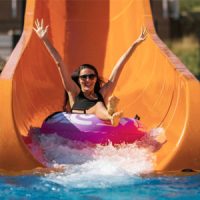 We recently discussed a news article in which a man alleged that he was partially paralyzed after sustaining an injury at a Universal Volcano Bay water slide. Well, after news broke about the injury, several more began filing claims. Now, Universal's insurer is saying that they are not responsible for indemnifying Universal which is creating a litigation untidiness for all parties.
The insurance company says that there are 73 claims related to waterpark slides since the waterpark opened three years ago. That's nearly 25 per year.
One of the most notable claims involves a man who was paralyzed on a Universal water slide. Another involves a man who required a penile implant after an injury on a Universal water slide.
An attorney familiar with the case commented that the number of claims in three years is troubling. Firstly, the waterpark is only three years old. That suggests two things. The construction of the waterslides themselves are dangerous, and even with the latest technology in ride safety, Universal Studios constructed unsafe water slides.
Whose Fault Is It, Anyway?
 Admiral Insurance, Co. insures both ProSlide Technology, which engineered Universal's rides and Universal itself. They recently filed a lawsuit against the companies to strip Proslide and Universal of their coverage.
According to the lawsuit, Admiral alleges that Universal waited years before telling either Admiral or ProSlide about the various injuries that patrons of the park were suffering. Admiral further states that they are only responsible for covering claims two years after the park opened. That window has since elapsed without Universal filing the claims. Now Admiral wants to shift the liability to either Universal or another insurance company.
When Was ProSlide Notified? 
ProSlide would be named in any lawsuit against Universal since they engineered the ride and Universal made it available to the public. However, Universal failed to notify ProSlide about any of the injury incidents until several months after they occurred, seriously complicating matters.
At least some of these lawsuits have already been settled. In one incident related to a raft ride, a 13-year-old girl became trapped under a 200 lb. raft after she fell off. She appeared to lose consciousness and nearly drowned. A lifeguard managed to save her. Universal settled this lawsuit but forced the plaintiffs to sign a gag order, so no one knows what the details of the settlement were. This lawsuit was settled in mid-2019, but Universal didn't notify ProSlide of the incident until April of 2020. An executive for ProSlide said this was unusual, and that ride manufacturers are typically notified immediately if there is an injury incident. Without notice, they say, that they assume that their rides are operating safely.
Talk to an Amusement Park Injury Lawyer
Amusement parks are generally strictly liable when their rides malfunction. If you've been injured on a ride, call the Miami personal injury attorneys at the office of Alan Goldfarb, P.A. today to schedule a free consultation and learn more about how we can help you recoup financial and emotional losses.
Resource:
orlandosentinel.com/business/tourism/os-bz-volcano-bay-insurance-lawsuit-20200826-zgpmdlkhybgm3amqa2lxajhfoi-story.html
https://www.goldfarbpa.com/universal-water-slide-implicated-in-paralysis-injury/