Lyme Disease At Center Of Two Wrongful Death Suits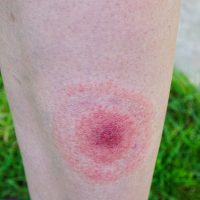 Lyme disease was recently cited as the primary cause of death for a man in Maine. His family recently settled a lawsuit against the doctor and hospital for over $6 million. According to the suit, the doctor missed a target-shaped rash that easily would have identified a tick-borne illness. Instead, the patient was diagnosed with something else and died as a result of the misdiagnosis.
Another Lyme disease-related case was filed elsewhere. However, in that case, the doctor did seemingly follow the prevailing standard of care. The problem is that the prevailing standard of care can cause doctors to miss certain cases of Lyme disease resulting in the death of patients.
Medical malpractice lawsuits are not like other lawsuits. In order to prove professional negligence, you can't simply say that the doctor made a mistake. You have to establish that it was a mistake other doctors would not have made. Hence, an allegation of medical malpractice compares the doctors conduct against the prevailing standard of care for the profession. In this case, the prevailing standard of care has issues. These issues have remained in place for decades. While it's possible to hold an individual doctor liable for failing to perform services in accord with the prevailing standard of care, who do you sue when the prevailing standard of care isn't good enough?
Therein lies the problem.
What happened? 
Essentially, the test failed as it often does in the early stages of detection. Without a positive test, the victim was not afforded antibiotics that could have saved his life. The plaintiffs believe that the doctors had enough information to move forward with treatment, but the prevailing standard of care tells them they should hold off until they have a positive test.
In some cases, the test can come back negative even where there is a rash. The presence of the rash would still indicate Lyme disease. In this case, the plaintiff did not have a rash and the test came back negative. The doctor elected not to treat and the patient died as a result. The prevailing standard of care states that doctors should not treat for Lyme disease without a positive confirmation. However, this does sometimes result in patients dying.
The issue is that no professional negligence occurred because the doctor was following the prevailing standard of care. This case should be defendable. It remains unclear how the plaintiff can win this suit against a doctor whose conduct was within the medically-accepted treatment for the condition. More often than not, such lawsuits are blocked before they reach a jury. This one, however, is moving forward.
Talk to a Miami Personal Injury Lawyer Today 
The Miami personal injury lawyers at the office of Alan Goldfarb, P.A. represents the interests of individuals who have been injured by negligent hospitals. Call today to schedule a free consultation and learn more about how we can help.
Source:
lymedisease.org/elone-wrongful-death-lawsuit-lyme/