Wrong-Way Driver Causes Deadly Accident On Florida's Turnpike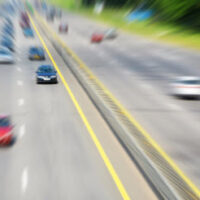 When a motorist goes the wrong way on a busy road or highway, the consequences can be devastating for the wrong-way driver and any motorist they encounter. Take, for example, the deadly collision that occurred on Florida's Turnpike in southwest Miami-Dade County. The fatal crash involved three vehicles and occurred on 216th Street and Caribbean Boulevard near Cutler Bay, according to Local 10 News.
The driver of one of the vehicles was traveling south in the northbound lanes before the collision. A Homestead police prisoner transport van first encountered the wrong-way driver, but was able to swerve out of the way before being hit head-on by another vehicle.
As a result of this awful collision, two people lost their lives and one person inside the prisoner transport van was injured.
Deepest condolences go out to the family and friends of the two individuals who lost their lives in this preventable accident.
Wrong-way accidents are fairly rare, but studies have indicated that the death rate for wrong-way collisions is between 12 and 27 times more likely than in other types of automobile accidents.
How Wrong-Way Accidents Occur
Statistics indicate that wrong-way accidents are more likely to occur between in the late evening and early morning hours (e.g., between midnight and 3 a.m.). In many instances, a motorist winds up headed in the wrong direction when they enter onto an exit ramp or get confused when making a turn onto a road. Studies have also discovered that wrong-way motorists are more likely to lack proper licensure and alcohol was more than twice as likely to be a factor in deadly wrong-way accidents than in other fatal accidents. The presence of prescription medications is also an issue since certain drugs may affect a driver's judgment and cognitive abilities.
Serious Injuries Suffered in Wrong-Way Wrecks
Even if you were able to avoid death in a wrong-way accident, there is a higher-than-average chance that you will suffer a serious bodily injury including:
Traumatic brain trauma
Fractured bones
Paralysis
Internal bleeding
Torn ligaments
Any of these serious injuries can leave you with permanent disabilities requiring months or years of medical care.
Filing a Personal Injury or Wrongful Death Claim Against the Wrong-Way Driver
If you were injured, or you lost a loved one, in a preventable wrong-way accident, you should contact a Miami car accident lawyer to discuss the viability of filing a civil claim against the negligent driver. You may be able to obtain financial restitution for your harms and losses including:
Medical costs
Lost wages (including wages that would have been earned in the future if you were not injured)
Pain, suffering, and mental anguish
A personal injury or wrongful death claim is filed against the negligent driver's auto insurance company.
Miami Car Accident Injury Lawyer Ready to Help You and Your Family
The Miami car accident lawyers at the office of Alan Goldfarb, P.A. are ready and able to assist you and your family during this tough time. Getting hurt in an accident or losing a loved one is a traumatic and overwhelming experience. You probably have questions and concerns about how you will be able to cover certain fixed expenses and get your life back in order. We can help. Contact our office today to schedule a free, confidential case review.
Resource:
local10.com/traffic/fatal-crash-involving-prisoner-transport-van-shuts-down-portion-of-floridas-turnpike-