Are Remote Trials Coming Soon?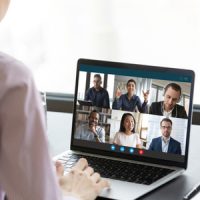 Think of it. Instead of being cloistered in a courtroom all day, you can listen to witness testimony and lawyer arguments from the comfort of your own living room.
In late June, several Broward County residents received summonses for jury duty from the 17th Judicial Circuit Court of Florida. While these summonses were sent through the mail, the summons instructed the prospective jurors to report for jury duty over the internet.
One of the things that COVID has brought us is the realization that we can do far more at home than we were originally told. Could jury duty be the next thing to become virtualized?
This is a First in Florida 
The good citizens of Broward County were given specific instructions for handling the summons. Instead of showing up at the courthouse, they were instructed to go to a website and watch a video. This video provided instructions on how to check in and how to download the Zoom app. The jury was also given instructions on how to find the particular judge hearing the case to obtain login information to the specific room.
While this all sounds nice in theory, it also made certain elements of the process more cumbersome. The check-in period specifically took over an hour to complete while the court processed requests for hardship or other exemptions.
Is the Jury Tech Ready? 
While Zoom is a fine app, it was never truly expected to handle the kind of load necessary to interact with numerous people all at the same time. In fact, many jurors reported problems with using the video from their phone while others could get no more than four panels to show up. Some reported that their wifi signal was weak or coming in and out, while others said that they were experiencing difficulty because they were not at home while they were checking in.
While the experiment was broadly considered a success by participants, we are probably further away from virtual courtrooms than we would like. While screening jurors in this manner may become the norm, allowing jurors to hear a case in a virtual courtroom may not be on the horizon, even in a post-COVID-19 world.
For one, Zoom isn't really meant to handle the number of people in a trial. However, jury members expressed that they would be comfortable with the virtual format and would be able to judge the credibility of witnesses in this format.
While the jury is still out on whether virtual courtrooms will become the norm, this initial experiment in virtual jurisprudence has given some hope that trying cases virtually is, at the very least, possible.
Talk to a Miami Personal Injury Attorney
If you've been injured due to the negligence or malice of another individual or company, you can file a lawsuit to hold them accountable and recover damages related to your expenses and suffering. Call the Miami personal injury attorneys at the office of Alan Goldfarb, P.A. today to learn more about how we can help.
Resource:
law360.com/legalindustry/articles/1294787/fla-jury-selection-success-shows-viability-of-remote-trials
https://www.goldfarbpa.com/the-new-normal-coronavirus-liability-waivers/