COVID-19 Deaths in Nursing Homes Spark Rage and Lawsuits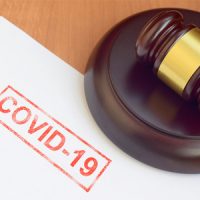 Illinois resident Faith Heimbrodt got a call from her mother's nursing home in April saying that she wasn't doing well. They allowed her to come visit her mother despite the fact that the nursing home had been in lockdown since March. Staff at the nursing home told her that she didn't have any symptoms of the virus and that her decline was likely related to her advanced dementia. However, when Heimbrodt got there, she found staff who were not wearing PPE and her mother's room was in a state of squalor.
The woman says that her mother's room was filthy with dirty diapers on the floor. Her roommate was coughing and unmasked in a nearby bed. There were no dividers separating the two patients. She noted that her mother appeared dehydrated and that there were sores covering her mouth. A week later, she died. A coroner later determined that her mother had the virus. Months later, investigators have determined that 136 residents and staff at the same nursing home had the virus and 30 have died.
The Lawsuit
The plaintiff has filed a lawsuit against the nursing home tasked with her mother's care. She alleges that the nursing home did not have adequate staff, failed to provide employees with PPE or testing, and essentially became a breeding ground for the deadly virus. Since so many of the residents were considered high-risk for developing complications from COVID-19 that lead to death, no one is quite certain how this happened. But it is not unique. All over the country, nursing homes have become breeding grounds for the virus and many of our dead were nursing home residents when they passed.
The nursing home responded to the allegations saying that they were unfounded. They further stated that these types of lawsuits send a terrible message to the heroes on the front lines of the pandemic. However, we can all be certain that these heroes would have preferred to have had useful PPE and regular testing to avoid exposure and watching their patients die.
After the Pandemic, More Will Be Known 
As of now, we have anecdotal evidence concerning individual nursing homes and their individual lapses that resulted in a notable number of deaths. But we won't likely have information concerning the full breadth of nursing home deaths until after the pandemic is over. It could be that a large cross-section of the deaths related to COVID-19 is the result of lapses in nursing care.
Nursing homes are supposed to be kept sanitary. Surfaces are supposed to be wiped down. Residents are supposed to be in an environment with a reduced risk of infection. Even a minor cold or the flu can cause a catastrophic medical event that results in death. So in that respect, COVID-19 did not change anything, even the standards that the nursing homes were required to operate under. That being said, it did expose serious lapses in the quality of care, and there will be a nationwide reckoning.
Talk to a Miami Personal Injury Lawyer 
If a loved one was mistreated by a nursing home, you can sue for damages on their behalf and recover enough money to put them in a better nursing home. Call the Miami personal injury attorneys at the office of Alan Goldfarb, P.A. today to learn more about how we can help.
Resource:
abajournal.com/magazine/article/coronavirus-related-deaths-in-nursing-homes-seed-lawsuits-and-questions-about-whos-responsible
https://www.goldfarbpa.com/miami-nurse-accuses-doctor-of-deliberately-infecting-her-with-covid/