"Big Kid" Booster Seats Tied to Several Injuries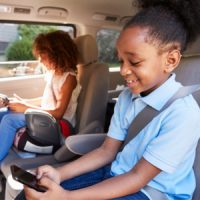 Evenflo, the manufacturer of "Big Kid" booster seats, is being accused of placing profits over child safety after a video surfaced that showed that children could be injured by side-impact accidents. Evenflo continued to market the booster seats as "side-impact tested" which implies that they passed the side-impact test. They did not. Technically, however, they were tested.
Evenflo's website mentioned numerous rigorous tests that simulated side-impact collisions. Side-impact collisions are significant because they are responsible for more than 25% of all children under the age of 15 killed in automobile accidents in 2018.
In reality, however, Evenflo's tests showed a very low litmus for rigor. The company used child-sized crash dummies in their big kid booster seats, but the tests showed the dummies flying out of their shoulder belts. A chief engineer for the company admitted that if a real child moved the way the dummies had, they could suffer catastrophic head, next, or spinal injuries and very possibly die. Nonetheless, Evenflo gave their seats passing grades.
Safety Concerns Dismissed 
One prominent engineer for Evenflo recommended that only children who weighed more than 40 pounds use the seats, but his recommendation was vetoed several times by a man who is now the vice-president of marketing for the company. These requirements would have put the U.S. in line with other countries like Canada who have similar regulations. Nonetheless, Evenflo continued to sell and market its booster seats to parents with children under 40 lbs.
Regulatory Failures
About 20 years ago, Congress passed a law requiring the NHTSA (National Highway Traffic Safety Administration) to implement rules regulating the safety of booster seats. However, there were no established set of standards for side-impact tests. This allowed Evenflo to create their own tests and pass their seats without any oversight.
In fact, the tests showed that the Evenflo booster seats were not safe for side-impact collisions, but Evenflo claimed they passed with flying colors because their dummy wasn't on the floor and the seat didn't shatter into pieces. In other words, the bar for passing was so low that almost any seat, regardless of how safe it was, would have likely passed the test.
Dorel, who is one of Evenflo's chief competitors faced a number of lawsuits related to the performance of their seats in head-on collisions. In 2016, Dorel stopped marketing their seats to children under 40 lbs. However, six other companies continue to market their booster seats to children under 40lbs.
Meanwhile, Evenflo has produced "evidence" of children who survived several types of collisions in Evenflo booster seats and remarked that some parents credited Evenflo with saving their child's life.
Talk to a Miami Personal Injury Attorney 
If your child has been injured by a malfunctioning product making dubious claims as to its safety, the Miami personal injury attorneys at the office of Alan Goldfarb, P.A. can help you hold that company accountable for its moral and legal failure. Talk to us today to set up a free consultation.
Resource:
nationofchange.org/2020/02/06/evenflo-maker-of-the-big-kid-booster-seat-put-profits-over-child-safety/
https://www.goldfarbpa.com/florida-supreme-court-to-hear-evidence-in-dashcam-crash-case/