Driver Charged After Hit-And-Run Fatality with Cyclist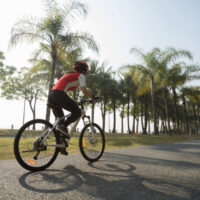 The driver of a white pickup truck has been charged after leaving the scene of an accident where he struck a cyclist. Twenty-eight-year-old Jacob Aaron Weinert was killed after being struck by a two-door white pickup truck at the intersection of U.S. 301 and Sligh Avenue in Tampa at 4:40 a.m. on his way to a warehouse where he works as a forklift operator.
Sixty-one-year-old Steven Duane Baker called Florida Highway Patrol 24 hours after striking Weinert. He told Highway Patrol that he hit "something" but wasn't sure what it was. A spokesperson for Florida Highway Patrol said that Baker's explanation defied logic.
Baker may be charged with vehicular homicide or criminally negligent homicide for failing to assist Weinert and leaving the scene of the accident. Police say that had he rendered assistance to the young man instead of driving off, he may still be alive.
Police Believe Truck Driver Attempted to Cover Up the Accident
Police believe that Baker attempted to cover up the accident. When he was arrested at his home, they found front-end damage to his pickup truck and there was an area that he apparently attempted to spraypaint over. The damage pattern on the truck also indicates that Baker should have known what he struck, according to police. The driver faces a felony charge and lengthy prison sentence if convicted.
Meanwhile, the family is dealing with the loss of a loved one and will likely file a wrongful death lawsuit against Baker. However, since the State of Florida does not require drivers to carry bodily injury liability coverage, they may have no way of recouping that money.
What happens in a case like this is that the family contacts a personal injury attorney to manage their case. Their attorney reviews what policies (if any) the driver had and whether claims can be filed on those policies. If the driver has no liability coverage for bodily injury, then the attorneys must file a lawsuit directly against the driver. This has potentially several pitfalls.
The attorney's first order of business will be to determine whether the driver has sufficient assets against which to file a claim. If the driver has enough assets, then the lawsuit can proceed and the damages will be extracted against those assets. If they don't, however, then the family can still file a lawsuit against the driver and likely win it, but they may never be able to get the money.
Once a personal injury judgment has been entered against a negligent party, the plaintiff becomes the equivalent of a creditor and they become a debtor. The plaintiff can begin filing a separate suit to claim the debt and place a lien on their property or garnish their wages, but the debtor can turn around and discharge the entire sum in bankruptcy.
Talk to a Miami Car Accident Attorney Today 
If you've been injured by a reckless driver, the Miami personal injury attorneys at the office of Alan Goldfarb, P.A. can file a lawsuit on your behalf and attempt to recover damages for medical expenses, reduced quality of life, and lost wages. Contact us today for a free consultation.
Resource:
wfla.com/news/traffic/at-least-1-killed-in-collision-on-u-s-301-in-tampa/
https://www.goldfarbpa.com/teslas-driverless-features-an-auto-accident-liability/