Boating Accidents and Your Legal Rights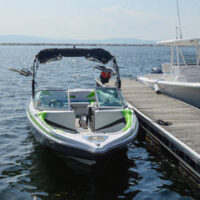 Florida is well known as a prime boating destination. There are a myriad of boats, cruise ships, and yachts that dock on the Florida coasts each and every year. This probably explains why Florida experiences the most boat accidents each year. If you or a loved one was seriously injured in a boating accident, you need to speak to an experienced Miami personal injury lawyer to discuss your legal options.

Types of Boating Accident Injuries
A serious boating injury can be caused in many ways including:
The boat traveling at an unsafe speed and colliding with another boat or a wave;
Boating while intoxicated;
Someone coming in contact with a boat propeller;
Failing to keep a lookout while someone is skiing or tubing behind the boat;
The boat operator failing to have a proper understanding of navigational rules;
Overcrowding on the vessel.
As you can see, many boat accidents occur because of negligence. The operator of the boat engages reckless or careless behavior or they underestimate the risks associated with operating a boat, yacht, sea-doo, jet ski, or any other watercraft.

Boating License Not Necessary
When you want to drive a car, you have to get a driver's license. To get a driver's license, you need to pass a series of tests to prove you have a basic understanding of the rules of the road and can safely operate a motor vehicle. You would think operating a watercraft would carry the same requirements and you would need to show you understand the nautical rules of the road before being able to take to the sea. Unfortunately, this is not the case. Florida does not require you to have a boating license prior to operating a watercraft. Furthermore, there are no age requirements for boaters, according to the Palm Beach Post. Florida law only mandates only that someone born after 1988 has to complete a boating safety course.
This often means that people are operating large yachts, boats or other watercrafts without any specialized training or understanding of that particular boat or what to do when they encounter another vessel.

You May Be Able to Pursue Financial Restitution
If you or a loved one was seriously harmed due to a boat operator's negligence, you may be able to pursue financial restitution for your medical expenses, lost wages due to time missed from work, and pain and suffering. You may also be able to pursue punitive damages, which is often referred to as "punishment damages," depending on the facts of your particular case.
The law governing your injury claim depends on a variety of factors including whether you were employed by the owner of the watercraft or a guest.  It's also important to determine what type of watercraft you were on when the injury occurred. Why? Because you generally have three years from the date of the accident to file a personal injury claim against the boat owner or boat company. However, if you were a passenger on a cruise ship and suffered a serious injury, Florida courts have held that the "disclaimer and exclusion" provisions on the back of your ticket control and may necessitate you file a claim within one year and provide notice to the cruise operator within four months of the accident.

Contact Experienced Miami Boat Accident Lawyers
As you can see, the laws surrounding boat accidents can get complicated. That is why you need to contact the Miami office of Alan Goldfarb, P.A. to schedule a free, confidential consultation. Attorneys at our firm possess more than 50 years of experience litigating cruise ship and boating accident injury lawsuits. We have the resources and skills to pursue maximum compensation.
Resource:
palmbeachpost.com/news/local/were-missing-teen-boaters-too-young-not-florida/AVk0xKYS8yaMgfZ3fe5ptL/