Ethan's Law Seeks to Protect Boaters from Accidents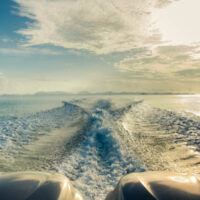 It sometimes seems like the law is a graveyard. Some terrible incident occurs and the name of the legislation is given to the victim whose death may have been prevented by different provisions. All across the country, someone ends up being the poster child for a piece of legislation meant to prevent future deaths like theirs. Marsy's Law is a well-known example. Less well known is Ethan's Law.
Ethan's Law was named for Ethan Isaacs, a ten-year-old boy who was killed after a propeller fatally slashed him. The incident was triggered after his coach and pilot of a second fell overboard while he was attempting to help Ethan right his own boat. The family has filed a wrongful death lawsuit against Sarasota Youth Sailors and the individual responsible for the sailors that day.
What Does the New Law Do?
The new legislation would seek to place a kill switch on the boat pilot, much like the kill switches you see on treadmills. If someone flies off the back of the treadmill, you don't want the treadmill still going, you'd want it to stop. While this type of legislation makes most people roll their eyes, there is broad support for the bill, even among fishermen, who say that having a kill switch just makes sense.
Wrongful Death Lawsuit 
After the death of their son, the Issacs family filed a wrongful death lawsuit against Sarasota Youth Sailing and the individual who came to Isaacs's rescue, his coach, 18-year-old Riley Baugh. The Isaacs allege that poor training and a lack of supervision ultimately led to their son's death. Baugh, who was attempting to help Ethan after his boat capsized, was bailing water out of Ethan's boat when he accidentally triggered the throttle on his own, sending the boat lurching forward. Baugh fell off the boat and the boat kept going, ultimately injuring two people and costing Ethan his life.
The plaintiffs contend that the Baugh's boat should have been turned off before Baugh began bailing water out of Ethan's boat. Had that happened, the throttle would have never been struck, Baugh would have never fallen off the boat, and Ethan would still be alive.
Additionally, Baugh's boat, like most modern boats, was equipped with an unemployed kill switch.
The lawsuit is unfortunate but meritorious. An employee of the SYS made a huge mistake that cost a child his life. Since SYS is responsible for the conduct of their employees, as well as the training and supervision of their employees, SYS is ultimately responsible.
However, that doesn't mean that it's satisfying. The case against Baugh, an 18-year-old who had to think on his feet while a child was fighting for his life, is strong. But ultimately, an 18-year-old should not have been completely responsible for all the youth sailors. There should have been at least two adults watching the kids. This was an honest mistake by a frantic young man who only wanted to save his boater's life.
Talk to a Miami Personal Injury Attorney
The Miami personal injury attorneys at the office of Alan Goldfarb, P.A. represent plaintiffs in personal injury lawsuits against negligent parties. Call our office today to schedule a free consultation and we can begin building your case immediately.
Resource:
heraldtribune.com/story/news/state/2021/02/04/ethans-law-named-sarasota-youth-could-protect-sailors-unmanned-powerboats/4282386001/
https://www.goldfarbpa.com/south-florida-deputy-wins-200k-in-lawsuit-against-atf/