Dangerous Drivers On Miami Roads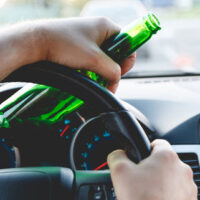 Despite numerous public safety campaigns highlighting the serious risks of drinking and driving, there remain a disturbingly high number of motorists who throw caution to the wind and try operating a vehicle while heavily intoxicated.
For example, a South Florida woman was placed under arrest for an array of serious charges, including driving under the influence and being involved in a hit and run accident.
If that was not bad enough, police indicate that there were three children in the vehicle at the time the woman was arrested, according to CBS Miami.
According to police, the woman was involved in an accident at Southwest 160th Street and 102nd
Avenue. Witnesses indicated that the woman attempted to flee the scene of the accident without exchanging information with the other driver. When police were called, they located the woman and discovered she was carrying three minor children in her Nissan Rogue.
Hit by an Intoxicated Motorist? Take Legal Action
If you or a family member is seriously injured in a car crash caused by a drunk driver, it is important to schedule a meeting with a Miami personal injury attorney to discuss your legal options. If the evidence shows that the drunk driver was liable, you likely have grounds to pursue financial restitution through a personal injury lawsuit.
If the driver who hit you pleads guilty to, or is convicted of, driving under the influence, then you have a fairly compelling case to seek maximum compensation from the at-fault driver's insurance company.  This is why it is important for you to meet with an attorney to get sound legal counsel. You should not accept a quick settlement from the insurance company or agree to give them a recorded statement. It is important to remember that insurance company claims representatives are not your friends. They have one goal in mind – reduce or deny liability so the insurance company can pay out as little as possible.
Recovering Damages After a Drunk Driving Accident
If you were hit by a drunk driver, you may be struggling with significant bodily injuries. Fortunately, you can immediately access insurance benefits known as Personal Injury Protection (PIP). Florida is a "no fault" insurance state, meaning you can access these PIP benefits without having to reach an assessment of fault. However, it is important to keep in mind that your PIP benefits are typically limited. In fact, most drivers only have about $10,000 in accessible PIP benefits. Furthermore, PIP benefits often only pay for 80 percent of your medical bills and 75 percent of your lost wages.
If your damages exceed the amount of available PIP benefits, do not give up hope. You still have the right to pursue damages through a personal injury lawsuit. If you find yourself in this situation, meeting with an attorney makes even more sense.
Have Questions? Speak to a Miami Personal Injury Attorney Today
If you or a family member is hit by a drunk driver, it is extremely important to contact an experienced Miami personal injury attorney. The lawyers at the office of Alan Goldfarb, P.A. are ready and able to help. Contact our law firm today to schedule a free, confidential consultation.
Resource:
miami.cbslocal.com/2018/02/02/woman-kids-in-car-arrested-dui/