Distracted Driving Remains a Serious Safety Issue in Florida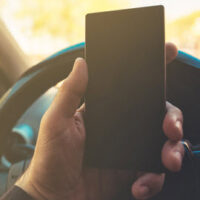 A study conducted by EverQuote found that Florida drivers are among the most dangerous on roads and highways due to the prevalence of distracted driving, according to the Miami Herald.
Florida was ranked 49th (i.e. second worst in the country), ahead of only Louisiana in a comparative analysis of drivers using cellphones while operating a motor vehicle.
If the distracted driving ranking was not bad enough, Florida drivers were ranked 39th in overall driving safety.

No Restrictions on Texting and Driving
The rampant occurrence of texting and driving may be attributable to the fact that Florida is one of only four states that does not make texting while driving a primary offense. This means police cannot cite drivers for texting unless they are stopped for another infraction (e.g., speeding, running a red light, etc.). Texting while driving is only a secondary offense.

New Legislation Proposed to Address This Serious Issue
Despite the lax laws currently in place, there appears to be momentum building for stricter texting while driving regulations. In an example of bipartisanship, State Rep. Emily Slosberg (D-Boca Raton) and Sen. Rene Garcia (R-Miami) have introduced a piece of legislation that would make texting while driving for drivers under the age of 18 a primary offense. Another proposed bill would make texting while driving a primary offense for all drivers who operate a vehicle in a school zone.

Distracted Driving Puts Your Life at Risk
Each and every day, eight people lose their lives and over 1,100 suffer serious injuries in automobile accidents involving a distracted driver, according to the Centers for Disease Control and Prevention. The Florida Highway Safety and Motor Vehicles division reported that distracted driving contributed to 16.22 percent of injuries from car crashes and 7.34 percent of all statewide fatal auto accidents in 2015. That translates to nearly forty thousand people injured and over two hundred killed as a result of distracted driving, according to the Sun Sentinel.
Multiple studies have shown that texting while driving is equivalent to driving while drunk in terms of impairment. For example, if texting distracts you for five seconds while you are driving your vehicle at 55 mph on Interstate 95 or Route 997, you are effectively driving the entire length of a football field with your eyes closed, according to the National Highway Traffic Safety Administration. The American Automobile Association discovered that sixty percent of car crashes involving teenagers are caused by a distracted driver.
As you can see, the data is clear – texting and driving is extremely dangerous and puts you and your loved ones at risk of serious injury or death.

Contact an Experienced Miami Personal Injury Attorney Today
If you or a loved one was seriously injured, or died, in a collision caused by a distracted driver, contact our law firm right away. Our team of experienced Miami car accident injury lawyers at the office of Alan Goldfarb, P.A. have the knowledge and skills needed to seek financial restitution for your harms and losses. Contact our office today to schedule a no-cost, confidential case review.
Resources:
miamiherald.com/news/local/article145609144.html
sun-sentinel.com/opinion/commentary/fl-pcoped-texting-while-driving-bill-20170203-story.html