First Responders Accused Of Killing Man With Ketamine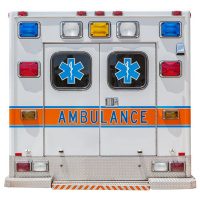 The use of ketamine as a chemical restraint has come under fire in recent years, presumably not by those who enjoy the drug as part of their weekend fun. Ketamine is a powerful tranquilizer that is used on humans and horses to produce a dissociative effect. The drug is used to reduce "excited delirium" caused by mania and psychosis.
A recently lawsuit accuses first responders of administering the substance without just cause with the result that the man who they were ostensibly trying to save, died as a result of their medical intervention. The family believes that had the EMTs administered water and shade, the man might still be alive.
What happened? 
The victim was in Tucson to visit his brother. After he crashed his Jeep, he was found "wandering the desert". Unlike Moses, he was set upon by sheriff's deputies who recognized that the man might not be all there. After attempting to remove the man from the area, police administered the ketamine. The man died a short time later.
According to the family, the victim had partied the night before and got his hands on some LSD. The next day, he took his Jeep out off-roading and crashed it into a tree. The Jeep burst into flames making it easy to find. However, the victim had wandered from the Jeep and appeared confused and delirious, as one might expect a person to be after wandering the desert for two hours. When the EMS found him, his skin was completely red. Instead of giving the man IV fluids, they gave him ketamine. Police and first responders said the man was delusional and combative, but apparently were unaware that heatstroke could cause precisely those symptoms. Other than evidence that the defendant had partied the night before, there is no evidence of mental health issues.
Elements of negligence 
In this case, ketamine is not supposed to be prescribed to people with head trauma, low blood sugar, and other conditions. In this case, it isn't clear that the victim hadn't sustained head trauma from the Jeep crash. At the time, the victim was clearly showing signs of hyperthermia and medical testing showed his body temperature to be 102 degrees. The maximum dose of ketamine for "excited delirium" situations 250 mg. The victim was given 300 mg of ketamine.
So, because the protocol wasn't followed to the letter, the plaintiffs have a winnable wrongful death lawsuit. Not only that, but the paramedics and police both missed obvious signs of heatstroke even when the patient's temperature surpassed 102 degrees.
Talk to a Miami Personal Injury Attorney Today 
If you have been injured due to someone else's negligence, call the Miami personal injury attorneys at the office of Alan Goldfarb, P.A. right away. We will discuss your situation, provide options moving forward, and help you file suit against the negligent party. Call today to learn more.
Source:
abc15.com/news/local-news/investigations/rethinking-policing/tucson-wrongful-death-lawsuit-questions-ketamine-usage