Ford Pays $299 Million To Settle Takata Airbag-Related Lawsuit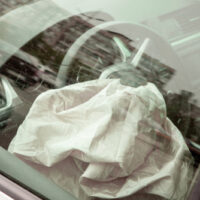 One of the most massive product liability lawsuits of all time, the Takata airbag lawsuit, claimed another company as Ford recently paid out $299 million to settle the class-action. For those who haven't heard about this, Takata Corporation produced a brand of defective airbags that would explode in humid climates. The force of the explosion killed 23 people and injured dozens more.
Making matters worse, the evidence showed that Takata Corp. knew that the airbags were defective and potentially lethal. Takata quickly settled dozens of lawsuits filed against them for the airbags handing out large settlements under seal and never admitting liability. The maneuver was meant to keep automakers in the dark concerning potential problems with the design. Nonetheless, every major automaker has been hit with a lawsuit.
Toyota, Subaru, and Mazda settled for a reported $553 million, while Nissan settled for $98 million and Honda settled for over $600 million. GMC, Chrysler, Volkswagen, and Mercedes are still fighting battles in court. Ford was the most recent company to suffer a significant economic loss paying $299 million to victims of the defective airbag.
Takata itself agreed to pay $650 million in consumer protection claims across the states, but the states will likely never see a dime of that money. Takata has basically been bankrupted by the millions of dollars it has had to pay out in catastrophic injury and wrongful death lawsuits and is currently having its debts reorganized in Chapter 11.
Economic Losses
Each of the auto companies that used Takata airbags in their vehicles has been hit with lawsuits. The latest lawsuits have been for economic damages related to the recall and reinstallation of safe airbags. Those who have had to have their airbag replaced because it's a potential safety hazard have each been awarded $500 for the cost and use of a rental vehicle.
Personal Injury Trust
In the process of settling with Takata after word broke that they had covered up their product's dangerous defects, the court set up a trust for victims when it became apparent that Takata was bankrupted. The problem for Takata was that they lied, covered up the defect, and allowed their products to be distributed without warning. Because of this, plaintiffs were awarded punitive damages. Punitive damages are awarded when the defendant's negligence is so egregious that they deserve to be punished on top of paying for the plaintiff's injuries. Since Takata allowed a potentially lethal product on the market, they were crucified in court.
On top of that, the Department of Justice filed a criminal case against Takata setting aside $125 million for victims of the defective airbag. As a part of their bankruptcy settlement, Takata was forced to set aside another $140 million in a trust for personal injury and wrongful death victims.
The funds are designed to compensate those who have been or may yet still be injured by the airbags.
Have You Been Injured by a Dangerous Product?
Miami personal injury attorney Alan Goldfarb can help you recover damages when you've been injured by a defective product. Give us a call at 305-371-3111 or contact us online, and we can begin preparing your case immediately.
Resource:
latimes.com/business/autos/la-fi-hy-takata-settlement-20180222-story.html