Jury Awards $25M To Child Strangled By Blinds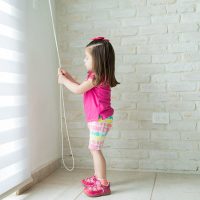 A jury awarded $25 million to a family who lost their 3-year-old daughter in a bizarre strangulation incident involving blinds. While this may sound like a random accident, it actually isn't. Blinds are listed as one of the top five home hazards for children. Part of the issue is that, despite the fact that we know that blinds are unreasonably dangerous, the companies do not warn customers concerning the hidden dangers of blinds. In this case, the company offered their customers a warning label from 1985 which is among the allegations that are being made against the company that manufactured the blinds.
Welcome to Hell 
According to the plaintiffs, the manufacturers offered her $1 million to make the issue go away. On the advice of her attorney, she rejected that offer because it was much lower than what her attorney felt she was entitled to in comparison with similar lawsuits. So, the civil defense team representing the blinds manufacturers did what they always do in civil defense matters, they blamed the grieving mother for the death of her child. If this seems like emotional abuse, that's because it is. It's just a kind of emotional abuse that is effective for the purpose of litigation.
While many might be enraged by being blamed over the death of our child, most people do feel at least partly responsible when their child dies, so the opposing counsel is mining the worst feelings about yourself, the ones that make you wish you were dead, in order to scare you off from the litigation, accept the settlement they're offering, and walk away.
Due in large part to the shame, anxiety, and fear of being blamed in open court for the death of your daughter, it's an effective strategy to bully plaintiffs off of lawsuits. As a result of standing up to the blinds company, the plaintiff's daughter was awarded $1 million in damages and her family was awarded another $24 million in punitive damages. But the price they paid for that settlement was extraordinarily high. They have to live with the loss of their daughter and the trauma of a trial in which defense counsel did everything they could to lay the blame at the feet of the grieving parents.
Understanding blinds and strangulation 
Part of the problem is that parents cannot hear a child who is choking on blinds because they cannot speak. So the parents may not know that anything is going on. In these cases, the child is deprived of oxygen for an extended period of time, and if the issue isn't caught quickly enough, brain damage and brain death ensue.
Statistically, about 9 children strangle to death every year due to blinds. Parents are advised to cut any cords as short as possible and make sure they are out of reach of children. Blinds around furnishings should be avoided. If able, you should avoid corded blinds entirely.
Talk to a Miami Personal Injury Lawyer Today 
The Miami personal injury attorneys at the office of Alan Goldfarb, P.A. handle complex products liability litigation and other personal injury lawsuits. Call today to schedule a free consultation and learn more about how we can help you recover.
Sources:
cpsc.gov/Safety-Education/Safety-Education-Centers/Window-Covering
deseret.com/utah/2021/9/23/22689818/jury-awards-family-of-late-elsie-mahe-25m-in-damages-following-lawsuit-byu-football-reno-mahe