Man Suffers Injury When Cruise Ship Bunk Falls on His Head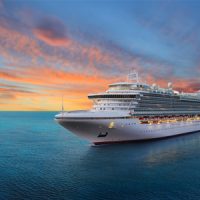 Maritime lawsuits are often plagued by federal statutes that have been on the books for centuries. Since the incidents that occur aboard them occur on the high seas, the question of jurisdiction is a major matter. In most cases, the cruise lines have broad leeway to force passengers into jurisdictions that benefit them. They tend to like federal courts in Florida since that's where they're mostly based.
The Dispute 
Eric Ewing was eating a slice of pizza in his cabin on a Carnival Cruise ship. He was sitting on the bottom bunk when the top bunk came down on his head. Ewing sued for damages, but Carnival raised the defense that Ewing not only needs to prove that he was injured aboard their property, but Carnival also needs to have actual (as opposed to constructive) knowledge of the problem before it occurred.
This question was not a simple matter. However, Carnival has a policy that states that cabin stewards are required to check the beds each day to ensure they're safe. Since they violated their own policy, and since they should have and would have known that the bunk was unsafe if they performed their routine check, the plaintiff argued that they don't need to prove actual knowledge and Carnival is liable for the claim due to the negligence of their employees.
In a federal maritime case, precedent forces the plaintiff into proving that the ship operator had actual or constructive knowledge of the dangerous condition when the incident occurred. This includes instances in which an employee actually caused the dangerous condition. In this case, the plaintiffs have argued that Carnival did have actual knowledge of the dangerous condition through their employee who should have checked the bunk and didn't. The question that the court had to answer was whether this was enough to make Carnival liable.
Of course, these issues are frustrating to plaintiffs. In this case, you have a man who went on a Carnival Cruise who will require the use of a walker for the rest of his life. His doctors have also said that his brain is shrinking considerably faster than it would without the injury.
In this case, the judge found in favor of the plaintiff. The ruling states that a jury could infer that Carnival had actual or constructive knowledge of the dangerous condition or not, rendering a valid ruling. Similarly, the judge stated that a jury could decide that Carnival is liable even without active or constructive knowledge, and that Carnival is liable because of their employee's negligence, even though precedent says otherwise. The jury could, in effect, establish their own precedent in this case.
Talk to a Miami Personal Injury Attorney Today
If you've been injured on someone else's property, call the Miami personal injury attorneys at the office of Alan Goldfarb, P.A. to schedule a free consultation and discuss the matter with our attorneys. If you're injured on someone else's property due to their negligence, you can file a lawsuit to recover damages. Call us today!
Resource:
law.com/dailybusinessreview/2020/07/13/lawyers-are-watching-this-carnival-case-on-vicarious-liability-for-cruise-operators/
https://www.goldfarbpa.com/woman-who-filed-lawsuit-against-insurance-carrier-loses-big/