Monsanto Targeted in Glyphosate Lawsuit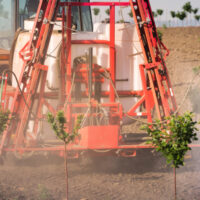 A federal judge is currently deciding on what evidence to allow in an ongoing product liability lawsuit against Monsanto concerning their Roundup weed killer. The main ingredient, glyphosate, is used in weed killers all over the world. For years, it was believed to be relatively safe, but new studies have shown that there may be serious health and safety concerns about the product.
Beate Ritz, who is a public health and safety professor at the University of California at Los Angeles, is a key expert witness for the plaintiffs. The plaintiffs are more than 700 farmers who claim that the weed killer caused non-Hodgkin lymphoma. They are claiming that constant inhalation and skin absorption of the product resulted in their cancer.
The debate concerning glyphosate has been ongoing for the past 30 years. The difficult task for the plaintiffs will be linking their condition to the popular herbicide.
Expert Testimony is the Key to the Case
While much of the science behind glyphosate may difficult to understand, key witnesses advocating on behalf of the plaintiffs or defendants can have a profound impact on a case like this. The key for the judge will be to separate the facts from the sensationalism.
There are two key factors that could damage Monsanto's defense a great deal: first, the question of whether or not they should have warned farmers about the side effects of glyphosate, and second, the question of whether or not they manipulated data to debunk studies not in their favor could prove to be damning. Companies are allowed to produce carcinogens, but they must warn those who are using their product of the potential dangers.
The World Health Organization pushed a report in 2015 that said that glyphosate was a "likely carcinogen" and linked to non-Hodgkins lymphoma. In the U.S., concerns were raised as well, but there was no definitive determination as to whether or not glyphosate caused cancer. Last year, the EPA published a report to counter the WHO findings stating that glyphosate was "unlikely to cause cancer in humans".
While Monsanto's legal team accuses the plaintiff's of "junk science", the plaintiffs have accused Monsanto of manipulating data and quashing attempts to study the impact of glyphosate. Emails exchanged between Monsanto executives indicate that they knew about the data showing that glyphosate was potentially cancerous, and chose to run a PR campaign against the studies that showed otherwise.
Emails indicating that Monsanto ghost wrote scientific studies attributed to academics and used connections at the EPA to prevent studies by the U.S. Department of Health could be enough evidence for a jury to rule in the plaintiff's favor.
Product liability cases like these can often come down to whose expert witnesses are more believable. But Monsanto's own manipulation here is also a key factor that could sway jurors against the defense.
While the question of whether or not glyphosate causes cancer is still a matter of scientific debate, it's for the jurors to decide if Monsanto is guilty of negligence.
Contact an Attorney for Help
If you have sustained injuries, you may be entitled to damages. Don't hesitate to reach out to Alan Goldfarb, P.A. in Miami and we'll fight for your right to be compensated for your injuries.
Resources:
insurancejournal.com/news/national/2018/03/14/483247.htm
nytimes.com/2017/03/14/business/monsanto-roundup-safety-lawsuit.html