Six Kids Suffer Injuries After a Vehicle Slams Into Their School Van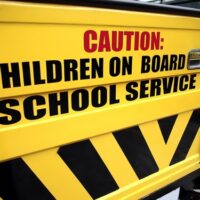 Hearing about a preventable car accident often elicits emotions of anger and frustration. Those emotions are only heightened when hearing about a serious accident involving children. According to ABC 10 News, six children suffered injuries when a school van was hit by another vehicle in southwest Miami-Dade County.
The van was registered to Happy Kids, a child care and day care center. This terrible collision was reportedly caused by a driver who decided to run a stop sign, according to the driver of the van.
There a total of eleven students in the van at the time of the collision. Six kids had to be transported to Jackson South Medical Center for immediate medical treatment.
Stop Sign Violators Routinely Cause Serious Accidents
There is a reason we have stop signs at intersections – to reduce the risk of a serious accident occurring. Unfortunately, many drivers throw caution to the wind and drive straight through a stop sign. This is an invitation for a major collision to occur.
The National Highway Traffic Safety Administration reported that between 35 and 40 percent of all motor vehicle collisions occur at an intersection and a commonly cited cause of the collision is a driver failing to stop at the stop sign or failing to properly yield to another motorist.
Pursuing Financial Restitution for Your Intersection Accident Injuries
When a driver blows through a clearly designated stop sign, they are liable for the harms and losses caused by any resulting collision. This is because there is a clear rule of the road that all Florida motorists know and should understand – stop at a stop sign. It is also codified in Florida Statute § 316.123 which states that when a motorist is presented with a stop sign, they are legally obligated to stop and proceed cautiously thru the intersection, exercising all due care and vigilance.
This is a duty of care that all drivers must respect. When a motorist decides to drive thru a stop sign, they are breaching that duty of care.
If you or a family member was injured as a proximate result of another driver failing to stop at a stop sign, you can recover economic and non-economic damages through a personal injury claim. The financial restitution you can pursue through such a claim includes incurred and future medical bills, lost wages, and damages for your pain, suffering, and inconvenience associated with the collision.
The amount of financial restitution you can reasonably expect to recover depends on a multitude of factors including the extent of your injuries and the amount of available insurance coverage.
Contact an Experienced Miami Car Accident Lawyer Today
If you or a loved one was involved in a collision with a motorist who ran a stop sign, you should hire an attorney who is skilled and well-versed in personal injury litigation. That is why it makes sense to contact Alan Goldfarb, P.A. to schedule a free case review. Our Miami attorneys have decades of experience handling these types of cases.
Resource:
local10.com/news/6-students-injured-in-miami-dade-school-van-crash