Construction Worker Killed In Metromover Accident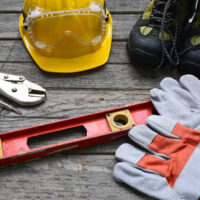 Downtown Miami was the scene of a tragic accident that cost one man his life and injured another when a construction lift and Metromover rail car crashed. The man who was killed, along with the second man who was injured, were both inside the construction lift that was struck by the Metromover car. The deceased man was ejected from the lift in the accident and died as a result. Fortunately no one was on the Metromover car at the time of the incident and, aside from the two construction workers, there were no other injuries or deaths caused by the accident; however, the family and friends of the victims will cope with their loss for a long time.
Dangers Of Construction Work
Construction work of any type is inherently dangerous work; in fact, according to statistics, over twenty percent of all fatalities suffered by workers in the course of their employment are in the construction industry. A significant percentage of workers in the construction industry are contractors and, coincidentally, a high percentage of all worker deaths are among contractors. It is not difficult to understand why construction work is so dangerous and why the rates of fatalities and injuries alike would be so high in this industry; indeed, working with heavy equipment, performing heavy manual labor, often in dangerous and precarious work environments is almost a recipe for disaster.
Options For Recovery From A Workplace Incident
For those injured on construction sites, workers compensation is often not a sufficient or complete solution. For those who have suffered injury, speaking with an attorney experienced in construction accidents is an important first step in determining the best way to proceed to obtain the compensation you are entitled to receive. If your accident was the result of negligence, there may be more than one party who is at fault, and a careful assessment of your accident case is necessary to determine from whom compensation should be sought. In the case of a workplace death, a wrongful death action may be appropriate to help the survivors cope with the financial impact of their loss. As is the case with so many different types of complex and complicated legal matters, looking at all of your options first, and then making a decision about how to proceed, can make the difference in the outcome of your case – whether it is a personal injury or wrongful death matter.
Alan Goldfarb, P.A. –  Help For Your Construction Site Accident Case
If you or a loved one have been injured or killed as a result of a workplace accident, the attorneys at Alan Goldfarb, P.A. can help. You are entitled to compensation for your losses, and our experienced Miami attorneys will review your case with you to determine a case strategy to get the best possible results for you.  Important legal matters demand that you have the best working on your side; don't settle for less than you deserve. Contact us now to schedule your initial consultation at no cost or obligation to you.
Resources:
google.com/amp/wsvn.com/news/local/1-construction-worker-dead-1-injured-after-metromover-crash-in-miami/amp/
osha.gov/oshstats/commonstats.html